Editor's Note: The following article is reprinted from PCWorld.com.
Smartphones are costly investments, but they can save you money, too. Did you know that you can use your phone as a barcode scanner while you are out shopping? Or that you can find in-store coupons through your phone? Dozens of free applications that can help you save cash are available across the major smartphone platforms. Here are the best of these no-cost, must-have apps.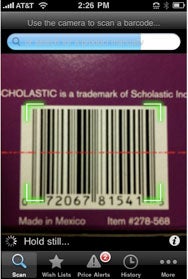 Shop Savvy (Android, iPhone, Symbian): Let's say that you see a gadget you want, but you're fairly sure you spotted it at another store for a lower price. Shop Savvy allows you to scan the bar code of any product, using your phone's built-in camera. The free program then searches for the best prices, locally and on the Internet. Instant comparison shopping has never been easier.
Dealert (WebOS): Currently, the Palm App Catalog is pretty sparse when it comes to shopping apps, but Dealert is an indispensable tool for Palm Pre and Pixi owners. With Dealert you can track specific products on many of the major deal sites around the Internet. The app takes advantage of WebOS's multitasking capabilities, too, as you can set it up to run in the background. It will also alert you via WebOS's notifications system when products you're tracking go on sale.
Frucall (all phones): Just because you don't own a smartphone, that doesn't mean you can't get in on the bargain-hunting action. Frucall works with all cell phones—even if you don't have mobile Web access. The service employs a combination of technologies (SMS, Web, and phone calls) to deliver price-comparison data to you. You simply text or call in a product's UPC or IBSN, or enter the information at Frucall's mobile Website.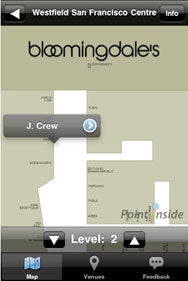 Point Inside (Android, iPhone): I often wish that Google Maps worked indoors as well as outside—especially in malls. Point Inside to the rescue: This app eases the pain of navigating the labyrinth known as the American mall by providing directories and maps for just about every major shopping center in the United States and Canada. And because Point Inside's maps are stored within the program, they will work even when no cell or Wi-Fi signal is available. Another perk: You can record the location of your car. You'll never get lost in a parking garage again.
Coupon Sherpa (iPhone): Sure, you can find quite a few coupon-wrangling apps out there, but Coupon Sherpa is by far the best. Before making an in-store purchase, you can search Coupon Sherpa for any relevant coupons, by category or by store name. At the checkout counter, the cashier can scan the coupon directly from your phone. If you prefer, you can send the coupons to your e-mail account, print them out, and bring them into a store.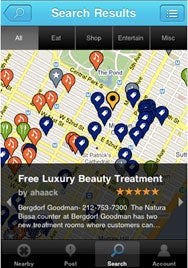 Postabon (iPhone, mobile Website): Postabon is one of my favorite new deal-finder Websites, so I was happy to hear that the company also had an iPhone app. Sort of a cross between Foursquare and deal-of-the-day sites such as Woot.com, Postabon allows community members to list deals that they've spotted around their city—from retail-store sales to dining specials. Not an iPhone user? You can still find posted deals by going to the mobile version of the Website on your handset. Postabon says that it is developing an Android app, as well.