It's a problem faced by writers, editors, marketing managers, contract lawyers, and anyone else who needs to have their documents reviewed, edited, and commented on by a bunch of different people. How do you collect all that feedback on your document as quickly and easily as possible, so that you can create a final version that incorporate's everyone's suggestions?
We struggle with this issue at Macworld all the time, between writers, editors, and copy editors. And there's no single good solution. Microsoft Word really only works well between two people. Comparing Google Docs files is a bear, and you can't edit changes directly, only view them. There are high-end legal and publishing tools that approach the problem, but they tend to cost a fortune.
One tool that I've been watching for more than a year now is Nordic River's TextFlow, a technology that compares multiple versions of a document and lets you view and edit all the different versions in a single (albeit Flash-based… sigh) interface. It's the technology that powers the free site Compare My Docs, and while it's not perfect, it's the most promising tool I've seen in a while for dealing with multiple versions of text documents.
On Tuesday, Nordic River announced its first major partnership — a deal with Box.net that allows users of that online document-management service to use TextFlow with just a click. Paid Box.net users (On the $10/month individual plan, $15/month business plan, or enterprise plan) can choose any file and open it directly in TextFlow. (They'll first need to add TextFlow as a Box.net application, and TextFlow itself costs $10/month or $99/year for Box.net users.) Since Box.net retains multiple versions of every file, TextFlow automatically compares all the versions.
There are a bunch of catches, however. Box.net's version-control system seems more devoted to the concept of a single file being updated by a single person, so using it to compare the changes made by different users seems like a bit of a hack. TextFlow currently only compares changes on files saved in RTF, .doc, and .docx formats. And in addition to paying for Box.net, you've also got to pay for a TextFlow account. (It's a shame the two companies haven't yet put together a package deal, but it's early days.)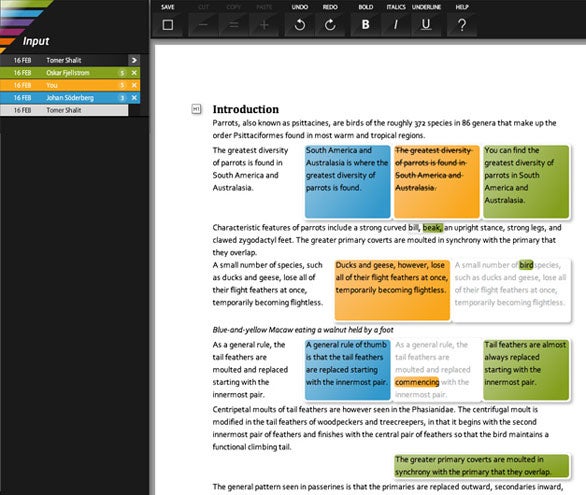 I got to spend a few minutes with Nordic River's Tomer Shalit last week, and it's exciting to hear him discuss bringing intelligence and good interface design to the tough job of comparing multiple documents. As someone who writes and edits documents for a living, let me tell you, the lack of good tools in this are leads to massive losses of productivity. Shalit seems to understand a need that few other software developers do. (Perhaps because software developers tend to be more concerned with tools that compare source code than tools that compare documents written in human languages.)
I'm also intrigued by the possibility that TextFlow could be introduced into numerous other Web-based services. It would sure be nice to open a Google Docs file in TextFlow and see all the changes made by different users, for example. And other cloud-storage systems, such as Dropbox could also benefit — though those services will face the same user-interface challenges as Box.net when it comes to loading and comparing multiple versions of a file.
And, of course, there's renewed competition in this area. As we saw earlier this month, Microsoft Office for Mac for 2011 will offer collaboration features that may solve some of the same issues as Textflow.