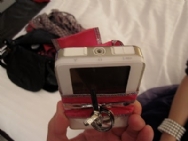 Whether it's the 32-foot cube marking its entrance, its spiral glass staircase, or the row upon row of shiny hardware, Apple's flagship Fifth Avenue store in New York City is certainly an impressive sight—almost cathedral-like, some might say. So why not use it like you'd use an actual cathedral and pledge your everlasting love to your beloved amid the MacBooks and the iPod displays?
That's exactly what Josh and Ting Li decided to do on Valentine's Day, appropriately enough. The couple tied the knot in the Manhattan Apple Store, becoming the first people ever to do so—at least to our knowledge.
As employees and bystanders watched on in a mixture of confusion and amazement, the happy couple came into the store in full attire along with the wedding party and proceeded to have a very short (but sweet) ceremony as the clock struck midnight. (The Fifth Avenue store is open 24 hours a day, after all.)
Dressed in Steve Jobs's signature outfit, friend and blogger Henry Hu officiated the ceremony (his first since getting ordained the previous year), using a white iPhone 3G to read the vows. (And here we thought that Apple Geniuses had the power to preside over marriage ceremonies… sort of like the captains on cruise ships.)
Josh Li told Entertainment Weekly that the couple decided to have their wedding in such a delightfully unconventional way mostly because of how they got to know each other: "Ting was looking to buy an iPod…and I managed to strike up a conversation that way." He also jokes about the Apple store being the closest thing to a church he has "because I am not religious…[but] I loved everything Apple."
Ting—who came up with the idea to have the ceremony in the store—wrote her wedding vows on a small, white card. On the outside? The phrase "I love you more than this" followed by a picture of a small embossed iPhone.
The couple exchanged rings that were tied to a first-generation iPod, wrapped in red ribbon. No official word on whether that iPod was the one responsible for their original bonding, but it seems awfully fitting.
The couple has several videos up on YouTube of the ceremony, recorded by friends, and there are pictures of the newlyweds after the ceremony on Henry Hu's Website.
[via LaughingSquid]