Two monitors are always better than one. With a laptop, however, you're stuck with just a single display, and that puts a drag on productivity. Want a way around that problem? Then check out the Mobile Pixels DUEX Plus. And particularly this week since it's been dropped in price through August 13 during our Back-to-School sale.
The Kickstarter-funded DUEX Plus turns any laptop, regardless of platform, into a powerful dual display system. And it accomplishes this seemingly improbable feat without adding any significant weight or bulk so your laptop will remain as portable as ever. You just connect it via USB, attach it to the back of your existing LCD, and get down to business.
The DUEX Plus is 13.3 inches so it'll fit proportionally with most laptop computers. It displays images in 1080p resolution for crystal clear visuals, it's plug and play, and it features auto-rotation so it can be used in either landscape or vertical orientations. And gamers will love it too since they can use it with a Nintendo Switch for a better portable gaming experience.
More Back to School Savings: Get 20TB of cloud storage from Prism Drive for just $99.99.
If you're heading back to class and want to make your studies easier, then the Mobile Pixel DUEX Plus is a peripheral that could make a big difference. It's well-reviewed (4.8 out of 5 stars on GforGadget.com) and comes highly rated by users too. And since it's on sale, it makes sense to get it right now.
Buy the Mobile Pixels DUEX Plus for just $249.97 until 11:59 pm on Aug 13 during our Back-to-School Sale, no coupon codes required.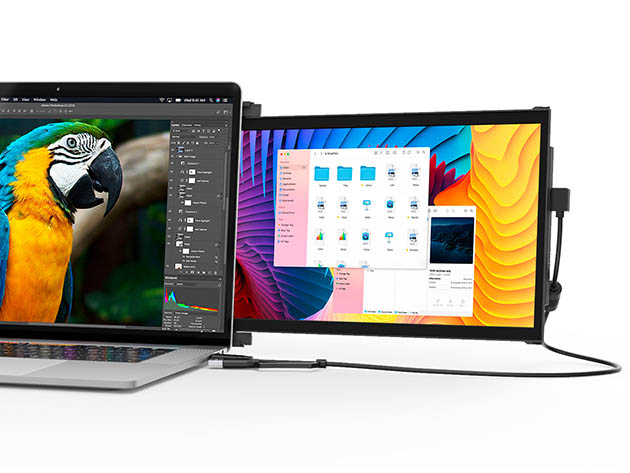 Mobile Pixels DUEX Plus: Portable Dual-Screen Laptop Monitor – $249.97
Prices subject to change.