The arrival of Google Wave created quite a stir last year when the search giant first took the wraps off its collaboration and communications tool. Essentially a mash-up of e-mail, instant messaging, social networking, and real-time collaboration, Wave has been touted in some corners as the best thing since the invention of e-mail, while others have declared that it's not quite ready for prime time. (Find out more in this overview of Google Wave.)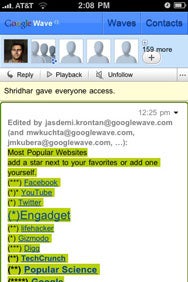 With all the hype surrounding Wave, the arrival of an iPhone take on Google's collaboration service was inevitable. And that app has turned out to be Waveboard.
Developed by Holtwick.it, Waveboard brings Google Wave to your iPhone or iPod touch—assuming, of course, that you have a Wave account. The app basically gives you the same interface as the Web-based version of Wave you'd pull up in the mobile browser of your iPhone, minus the Safari navigation buttons.
In Google Wave's terminiology, a wave is like a live conversation that can contain all sorts of gadgets, photos, documents, and much more. With Waveboard, you can reply to, search, and start new waves as well as manage your contacts. While the look of the app is a little cleaner than the mobile Website, I'm not convinced it's really that much better than pulling up Google Wave in Safari just yet.
Waveboard does offer a few features you won't find if you access the mobile version of the Wave site. You can shake your device to log out of your account or to refresh waves. Whenever you tap a link inside a wave, the integrated browser takes you to the Wave site so you don't have to leave the app. There's also the option to open the Web page in Safari if you like.
Waveboard's best feature, though, has to be push notification support. This feature alone is justification enough for the price tag.
Google Wave itself can be very slow at times and even crash occasionally, especially the mobile version. That's hardly a surprise—it's still a preview, after all. As Wave gets faster and more stable with updates, using the service will be a much smoother experience‹in turn, so will using Waveboard.
It may be a little premature to develop an app for a service that's not even in beta yet, but I think Waveboard has a lot of promise for the future. For right now though you might want to save a buck and just add a Safari bookmark to your home screen.
[Tim Mercer is a technology enthusiast, graphic designer, and blogger, whose blog, digital-artist-toolbox.com, offers free resources to the digital artist and graphic designer.]