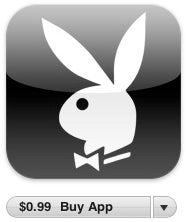 Apple made headlines again last week with another round of App Store censorship. Falling under Apple's banhammer this time were adult content apps that feature sexy girls and even innuendo-laced games, some from spammy developers who flooded the store with as many as 20 apps that all "duplicated functionality" of each other. As if it finally remembered that it's had an "objectionable material" policy in place since July 2009, Apple reportedly wiped over 5,000 apps from the store—that is, as long as the apps weren't from a major publisher.
As we covered last Friday, Apple nuked a number of independent developers' incomes by pulling apps like "Sexy Girls" and "iWobble," as well as games like "Daisy Mae's Alien Buffet." While a few stragglers were still available Monday morning, even many of those have disappeared as of this writing.
Still available for download, though, are apps like SI Swimsuit 2010 from Time and Playboy from Playboy Enterprises International. One could certainly argue that the latter is known just as widely for well-written articles and interviews as it is for photos of women in various states of undress. But I find it impossible to believe that Playboy's app, let alone a Sports Illustrated Swimsuit Edition app, falls outside the purview of whatever interpretation of its "objectionable material" policy that Apple has chosen to enforce this week.
Macworld has confirmed that Apple's App Store policy, which allows the company to reject applications deemed "obscene, pornographic, or defamatory", has so far remained unchanged in the wake of this purge.
But many of the apps Apple recently removed have been in the store for months, and many of those have been updated plenty of times. An Apple spokesperson allegedly gave the developer of iWobble a list of seven "new rules" that cover banned App Store content. This list (which Apple does not seem to have added to its official App Store guidelines) includes such broad-sweeping and woefully ambiguous gems as "no skin," "nothing that can be sexually arousing," and even "no sexual connotations or innuendo such as 'boobs,' 'babes,' or 'booty.'"
I can't imagine what would happen to the iTunes Store's music selection if songs containing "babe" and "booty" suffered this same fate.
When contacted for comment, Apple spokesperson Trudy Muller would only tell me:
Whenever we receive customer complaints about objectionable content we review them. If we find these apps contain inappropriate material we remove them and request the developer make any necessary changes in order to be distributed by Apple.
Meanwhile, Apple senior vice president Phil Schiller has also tried to elaborate on Apple's position to The New York Times:
It came to the point where we were getting customer complaints from women who found the content getting too degrading and objectionable, as well as parents who were upset with what their kids were able to see.
Apparently we are now all living in Apple's Bizarro World, where SI Swimsuit 2010 and Playboy do not garner complaints from the same parents and women who took issue with "Sexy Girls" and "iWobble."
If SI Swimsuit 2010 and Playboy are not eventually removed along with their competition, this recent ban will mark a whole new low for Apple's walled garden. Ambiguous, moving-target policies are one thing (and, even after a year and a half, Apple still needs to fix them). But instantly destroying the income of independent developers—no matter how useless or degrading you feel their apps may be—while allowing major publishers to peddle the same product is an entirely different thing.