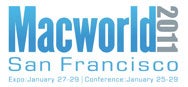 It seems like I was walking out of Moscone Center at the end of the 2010 edition of Macworld Expo just the other day. (It was actually about nine days ago.) But organizers of the annual Mac trade show have already opened up registration for next year's event. And for the next two weeks, registration for Macworld Expo 2011 is free.
That free registration gets you into the expo hall for next year's show, which will run January 25-29 in San Francisco. Once again, Expo will be held at Moscone Center. The free registration for next year's show offer ends March 8.
What will you see on the show floor come January 2011? It's a bit early to say, obviously, but Expo organizers promise that the Mobile Application Showcase—one of the most crowded exhibits at this month's event—will double in size next year. That's to accommodate not only the returning exhibitors—and there were about six dozen by my count—but also anticipated interest from developers looking to make a splash with their iPad-centric applications.
The 2010 edition of Macworld Expo wrapped up on February 13. Despite the fact that Apple skipped out on the annual Mac trade show, this year's Expo drew 20,000 attendees and 250 exhibitors to San Francisco for the five-day event, according to organizers IDG World Expo. (Both IDG World Expo and Macworld are owned by IDG.) The recent Expo also featured more than 150 conference sessions.