In case you hadn't noticed, the dedicated alarm clock app is threatening to overtake the flashlight genre for the most common type of app in the App Store—or maybe it just seems that way. Nevertheless, the App Store is full of alarm clocks, each with their own unique display and a handful of features designed to stand out from the crowd.
Alarm Clock Pro and its free counterpart—appropriately named Alarm Clock Free—have jumped headfirst into the crowded alarm clock field. And while it's hard to complain about free, the paid version of iHandySoft's app doesn't quite provide any bang for your buck.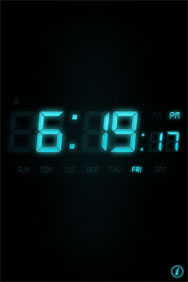 Alarm Clock Free gives you a bare minimum alternative to the built-in clock on your iPhone or iPod touch, with a green classic LCD display. You can set multiple alarms using one of the app's seven presents. You can adjust settings for snooze and alarm fade-in, and you can tell the app whether to show the days of the week.
For $1, Alarm Clock Pro, has multiple display colors, a flashlight you activate by shaking the device, the ability to toggle the brightness by sliding your fingers, and access to your music library for the alarm, including building playlists. An update released last week adds the ability to shuffle a selected playlist or to select podcasts or audibooks as your alarm.
Having several apps attempting to tackle the same issue certainly encourages competition. But what happens when the competition doesn't innovate and even does a poor job with some of the basics? Alarm Clock, for example, won't orient itself should you flip your iPhone or iPod touch upside down.
The free version of Alarm Clock is worthwhile if you're just looking for a basic time-keeper. But for something more polished, an app like Night Stand does a better job implementing those bells and whistles.
[Rob de la Cretaz is a full-time polymath and a proud resident of Pittsburgh.]