It's obvious that developer Epic Force put a lot of time and effort into developing Stone Wars, but that might be its biggest problem: There is just too much going on here.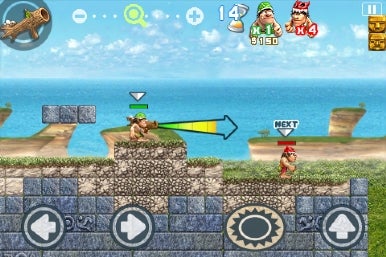 Welcome to the Stone Age, where you play as a cute little grunting caveman. The plot and graphics are set up a lot like a Super Mario Bros. game, a two-dimensional cartoon world where you advance through the landscape. The gameplay is very familiar: knock out your enemies and collect little items to increase points and health.
Unfortunately, it gets complicated with five different weapons to choose from and a convoluted process with which to fire them. An arrow appears when you approach an opponent. Depending on how you've set up your controls, you either swipe the screen or hold down a button to increase force, then you let go to fire. On the iPhone's touchscreen, it's incredibly cumbersome.
Presumably to make up for this, there is a training mode so extensive that it could be a game by itself. You can practice on each of the five weapons—which I admit are clever, like the flaming egg launcher or the bananerang—over 20 increasingly difficult levels, to improve your judgment over how to aim and how much force to apply.
Hours later, when you have learned how to play the game, you can go to the regular Arcade mode and test things out. I was appalled to see that when you run into an enemy, you take turns shooting at each other, with no defensive tactics—you just stand there and take it. The only upside I see to this is that you're guaranteed to be totally safe while you're fumbling to aim and fire your weapon. Even worse, if you misjudge your aim or force, you risk blowing yourself up or knocking yourself off a cliff.
If you get a handle on all that and feel like going for multiplayer, there are plenty of options. Versus mode allows you to play other people through the Internet, Wi-Fi, or Bluetooth, in addition to battling against the computer or even a friend sitting next to you.
That's right. Because the combat system is "turn-based," you can set up a two-player battle, passing the phone back and forth between you. I can tell from the developer's description that this is meant to make the game even more unique, but the words that come quickest to my mind are "why?" and "unnecessary."
Stone Wars is a fun concept, but it lacks intuitiveness. If your game's defining characteristic is "frustrating," then maybe you shouldn't have tried to reinvent the wheel with your iPhone app.
[Meghann Myers wishes this game was so easy, an intern could do it.]