Marcel Bresink released version 4.0 of the venerable system utility TinkerTool, which adds a massive laundry list of new preferences to Mac OS X and brings full compatibility with Snow Leopard.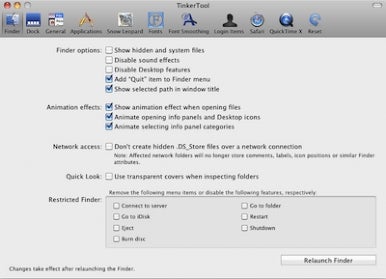 TinkerTool works by interacting with hidden preferences; these normally can only be changed by firing up a Terminal window and using the "defaults write" command. (Why does Apple hide preferences? Two reasons: to avoid massive checkbox-itis overload in System Preferences and elsewhere, and to hide features which aren't fully completed and might have glitchy behavior.)
Many of TinkerTool's new features allow shutting down options which may get in your way. If you have a home computer set up to provide remote access to various external drives, your whole day can be ruined when the cat walks across the keyboard and the Eject key; TinkerTool can disable it. Yellow ToolTip boxes pop up unexpectedly when you're mousing around your screen? TinkerTool can extend the delay before they appear. Annoyed as heck that Mail can't do something as simple as copy an email address without larding it with a full name and punctuation (not that this happened to me yesterday or anything)? With Tinkertool, there's a pref for that.
Advanced users who already know their way around the defaults write process will appreciate TinkerTool for another reason: fire it up, and it provides a handy checklist (of checkboxes) of what you've turned on in the past. TinkerTool doesn't provide a comprehensive list of what's hidden away; for that, combine the convenient user interface of TinkerTool with the canonical depth of Secrets.
TinkerTool is freeware, and is available for 10.4, 10.5, and 10.6; slightly different feature sets are included in each, as the hidden preferences change over time.