Years after rumors surfaced that Google would provide online hosted storage with limits akin to those offered with Gmail, Google has added an upload option to its Google Docs Web service. You can only upload via the Web using a primitive upload dialog box for selection. It's simple, but not powerful.
Here's how to access the upload feature.
Log into Google Docs at docs.google.com with your account information.
The Upload button is found at the upper left above the folder and category list. Click the Upload button.
Click the Select Files to Upload link (Flash is required), and a dialog appears. You can select non-contiguous files from the same level using Command to select or deselect.
Select whether files should be placed in a folder from the folder pop-up menu. (If you want to drop files in a new folder, you must create the folder on the Docs home page before uploading.)
Optionally check or uncheck Convert Documents. (More on this below.)
Click Start Upload, and a progress bar is shown for each file as it's uploaded.
During testing, I saw error messages a few times about trouble communicating with the server. I quit and restarted the browser, and the problem went away. Forum posts indicate that logging out of and back into Google Docs may also resolve the issue.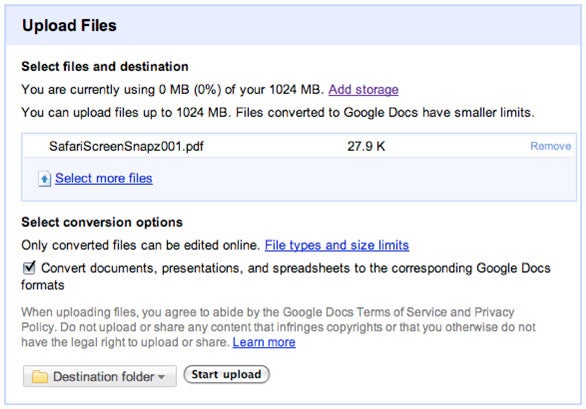 Because this upload feature is tied into Google Docs, the service offers the option to convert certain document types. The supported formats include HTML, plain text, Microsoft Word, Microsoft PowerPoint, Microsoft Excel, and OpenDocument Spreadsheet.
Dropbox and MobileMe, two popular online storage services for Mac users, do not convert documents into other formats. Dropbox allows you to view and share folders of photos, however.
Google Docs' free storage is limited to 1GB altogether. Individual file size limits vary for docs, spreadsheets, presentations, and other types of files—Google has posted an explaination of file size limits. Files that are stored but not converted to a Google Doc format have a maximum file size of 1GB.
Google lets you purchase additional storage, but treats it as a combined overflow for three services: Docs, Picasa photo albums (above 1GB), and Gmail (above roughly 7GB). Storage is allocated to whichever of these services (if any) go over the included amounts.
Fees start at $5 per year for 20GB additional storage and $20 per year for an 80GB add-on. Plans increment through many steps to as high as 16TB for $4096 per year. Dropbox and MobileMe have more modest storage (up to 100GB and 80GB, respectively) at far higher prices (see chart below).
Google doesn't restrict bandwidth for moving files in or out, but relies on the squishy statement that it "includes plenty of bandwidth for ordinary use." MobileMe includes tiered bandwidth based on storage (starting at 200GB per month for the basic account with 20GB of storage), while Dropbox monitors for "unusual amounts of bandwidth usage" for publicly linked files.
Unlike Dropbox and iDisk in MobileMe, which have Web, iPhone, and Desktop file access, Google only offers Web service. Google does provide a programmer's interface that lets software access uploaded files and the upload feature; a developer could release standalone software that provided a Finder-mountable volume.
Google Docs allows folders containing any mix of converted, native, and arbitrary files to be shared, as well as sharing individual files. Dropbox lets you share folders, but only files in the Public folder can be shared.
Dropbox can share a folder containing files, but the only way to share a single file is to place it in the Public folder in your Dropbox directory and copy a public link. MobileMe lets you share a link to any file, but only allows public access to a Public folder, which may be optionally password protected.
Online storage services compared
| Service | Free storage | Paid storage | On Desktop | Sync | Web download | Share folders? | Share files? | Bandwidth limits |
| --- | --- | --- | --- | --- | --- | --- | --- | --- |
| Google Docs | 1GB | Starts at $5 per year for 20GB additional | n/a | no | yes | yes | yes | "excessive," non-ordinary use |
| iDisk | n/a | 20GB $99 per year*; 40GB $149 per year; 60GB $199 per year | as volume | yes | yes | no | yes | 10X storage per month |
| Dropbox | 2GB** | 50GB $99 per year; 100GB $199 per year | as folder | yes | yes | yes | yes | "unusual amounts" for publicly linked files |
*iDisk is part of MobileMe, which includes 20GB in $99 per year e-mail and other services. Price is for single user. Family plan of up to five accounts adds an addition $50. Storage may be split among all accounts in family plan. **Dropbox offers 250MB additional free storage for each referral that signs up up to a total of 3GB additional storage for free accounts, 6GB additional for Pro accounts.
[ Glenn Fleishman is a regular Macworld contributor. He also is a regular contributor to the Practical Mac column for the Seattle Times.]