Battle for Vesta from Insight Industries is a first-person 3D space combat game with smooth gameplay, retro graphics, and little frills. You pilot your spacecraft while mining for crystals, avoiding asteroids, and fighting off enemy spacecraft in a sci-fi adventure not yet seen on the iPhone.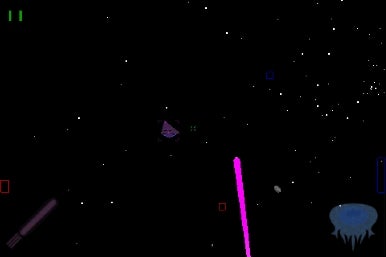 After some brief training, you join the Vesta Corp and attempt to hold off the Ceres Corp invasion. The controls are simple: tap on the screen to steer, tap a button for thrust, and tap a button for disruptor cannons. Your computer cues you to objectives (which is essential since the universe is vast), and other objects appear as mere blips through your cockpit window. Complete a mission and 19 more await with variations of the same basic tasks: mine crystals and destroy enemy spacecraft. Once you've completed the mission, the War mode puts you in the middle of large scale space battles.
The graphics are fairly basic so the low frame rates ensure the action is quick and smooth. The controls are intuitive, but some customization would have been nice. Personally, I would have liked to use the accelerometer. There isn't a way to customize your spacecraft either, and the game lacks a multiplayer option.
Battle for Vesta offers up some solid space combat with little frills. Utimately, the experience will leave most wishing for more depth in the form of varying enemies or upgradeable ship options.
[James Savage is the host of the RetroMacCast a weekly podcast devoted to older Macintosh computers.]