Reader Recutecu seeks a way to easily save files to his iDisk. He writes:
Is there some way to save files to your hard disk and iDisk at the same time?
I'd use Automator for this kind of thing. Like so:
Create a folder on your Desktop and call it Save to iDisk. Mount your iDisk, add a folder to your iDisk, and call it Saved From Mac.
Launch Automator, choose Folder Action from the sheet that appears to create a new folder action. Attach the folder action to the Save to iDisk folder. Now drag the Save to iDisk folder into Automator's actions area.
Add these actions: Get Folder Contents and Copy Finder Items. Drag the Saved From Mac folder from your iDisk to the Copy Finder Items action to add it as the destination for your saved files.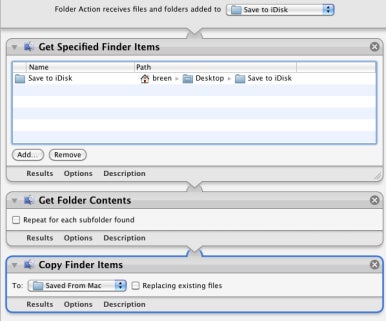 Now all you have to do is save your files to the Save to iDisk folder you created. As files are saved to the folder, they will also be automatically copied to the Saved From Mac folder on your iDisk.