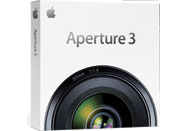 With Aperture 3's release a scant two weeks ago you might not have expected the imminent release of Aperture 3.0.1 on Wednesday—unless of course you had actually been using Aperture 3. The much anticipated update should hopefully fix the memory-devouring issues that many users have been seeing as well as bringing a chocolate-box assortment of other tweaks and enhancements.
As always, Apple says the 3.0.1 update contains overall stability improvements, but it also calls out a specific laundry list of topics that user reports connected to the memory bug, such as upgrading libraries from earlier Aperture versions, face-recognition processing, importing libraries from iPhoto, and retouching photos. While unofficial workarounds existed for many of those issues, a fix from Apple will certainly be welcome news to pro-level photographers everywhere.
In addition, Aperture 3.0.1 addresses issues related to adding undetected faces using the Add Missing Face button, printing pages containing multiple images and printing photos and contact sheets with borders and metadata, accessing Aperture libraries on a network volume, and the use of an external editor for photo editing.
There are also fixes for image display after applying Definition and Straighten adjustments, using keyboard shortcuts to zoom photos, and switching between masters in RAW+JPEG pairs. A pair of fixes deal with the newly added Places feature, improving selecting and moving pins on the Places map as well as adding and editing locations in the Manage My Places window.
Aperture 3.0.1, which weighs in at 29.41MB, requires Mac OS X 10.5.8 or later or Mac OS X 10.6.2 or later. It's available for download via Apple's support site or in Software Update and is recommended for all users of Aperture 3.