One of the things that I really like, but take somewhat for granted, about the iPhone OS is its support for push notifications. At first I thought I had little need to be notified when, say, an e-mail or Facebook message arrived. But as the notifications became more a part of my everyday iPhone experience, I came to realize their utility. You're simply told what has arrived, and from who. And you make a quick decision whether to have a look or wait until later. Simple and beautiful.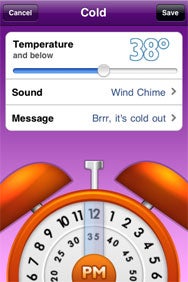 Weather apps seem like they'd be prime territory for push notifications, which is why I was excited to learn about Outside, a new entry into the crowded weather apps category. In the first line of Outside's iTunes store description, developer Robocat touts "push notifications like you've never seen before."
What a terrific idea, I thought—especially in service of my running habit. A storm's going to roll in later in the afternoon? I'll be notified and plan to run early. A warming trend around the bend? I'll put off that long run until that rolls around. And so on.
Unfortunately, Outside's push notifications are so bare-boned as to be nearly useless. You have a choice to be notified of only four weather events—rain, cold, UV index, and warm "T-shirt weather," in the app's informal parlance. You set your notifications for a specific time of day—and can choose only one time of day to be notified for each event.
On the positive side, you can customize your notifications. For example, I have the app set up to notify me that it's "cold" when the temperature falls below 38 degrees Fahrenheit, and "T-shirt weather" when the mercury tops 50. And my UV notification is set to 6. You can also customize the sound that plays and message that appears on your screen when a notification is warranted. "Brrr. it's cold out," is the default for cold weather, for example, but you can change that to something like "Bundle up today!"
Clearly, this kind of timed notification precludes the kind of warnings that I—and probably most others who want push notifications—are looking for. It's easy to check the weather when you wake up, or at midday—or at any time, without push. It's harder to know when a monsoon has taken a sudden turn toward (or away from) your location, which is why conditions—not preset times—should drive weather push notifications.
In addition to being limited to only four notifications (no snow? no extremes?), the app also limits you to notifications for only one geographic location. Traveling from Miami to Indianapolis via Chicago? You're out of luck, in terms of getting a full picture of your travel weather. The app also limits basic current weather information and forecasts to only one location, unlike a slew of other weather apps, which enable you to bookmark and save many locations.
Outside's subscription model is simple and would seem justifiable if the push notifications were more useful and plentiful. When you purchase the app, you get 30 days of notifications for free. After the 30-day period is over, you can choose to subscribe for another 90 days ($1) or 300 days ($2), or to not subscribe at all. In the latter case, the app still works; you just won't get any notifications..
The app does perform its very limited duties fine, but there are many free and less expensive weather apps for the iPhone that provide much more information and utility.
[Jeff Merron is a freelance writer and editor living in North Carolina.]