The White Rabbit has made his way into the App Store, and not a second too late. Hoping to experience some of the hype surrounding Tim Burton's upcoming film, Disney Interactive released Alice in Wonderland – An Adventure Beyond the Mirror (iTunes link) for iPhone and iPod touch earlier this week. The game features Alice and fan-favorites like the Cheshire Cat and Mad Hatter as they make their way through a whimsical fantasy land inspired by Burton's film.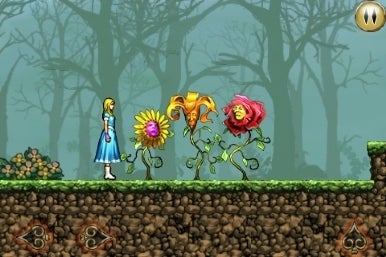 Each playable character comes equipped with their own special set of abilities. Players can freeze time with the White Rabbit, transform objects with the Mad Hatter, or make them disappear and reappear with the Cheshire Cat, all while discovering hidden items and trying to get high scores on each level.
The game is priced at $5 and boasts 10 levels and hundreds of puzzles to keep players occupied. iPhone users can unlock exclusive wallpapers and in-game objects by using their camera, GPS, or photo library. The lite version features two levels from the paid game and has already been in the App Store for several weeks.
Alice in Wonderland – An Adventure Beyond the Mirror is compatible with any iPhone or iPod touch running iPhone OS 2.2.1 or later.