Anyone who's ever tried to take a self-portrait on the iPhone knows how awkward it can be. Because the iPhone's camera is on the back of the device, the screen that controls the camera is facing away from you. You try to hold the phone with one hand, your index finger hovering over where you hope the capture button is on the touch screen. The results tend to be a blurry mess that wind up straight in the trash can.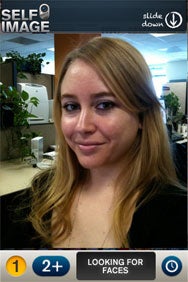 So there's an obvious need for an app that lets you snap a photo of yourself. Some apps like Fast Tap Camera get around this problem by letting you tap anywhere on the screen. Others, like Camera Genius include a timer function that lends itself to self-portraits.
Self Image, from Debacle Software, takes an entirely different approach—one that's both plain and fantastically simple.
You just launch the app and select whether you'd like to capture one or two people. You then turn the phone around so that the camera lens is pointing toward you. When Self Image detects your face (and the face of another person if you've selected two people), it will make your iPhone vibrate three times before snapping the picture. Self Image saves the photo onto your camera roll, and you're all done.
The app doesn't capture video, of course, and since the iPhone still doesn't include a built-in flash, photos in a dimly lit bar or crowded concert venue may not turn out well. But these are limitations of the phone, not the app. Self Image makes for handy TwitPic-ing when you run into Britney Spears at Starbucks, so it's definitely worth its $1 price tag.
[Editorial intern Meghann Myers has not run into Britney Spears at Starbucks… yet.]