If you've ever wanted to make your own time-lapse videos or even a cool stop-motion animation, look no further than iTimeLapse Pro from Laan Labs. With iTimeLapse Pro, you can easily create your own masterpieces straight from your iPhone and share them with the world.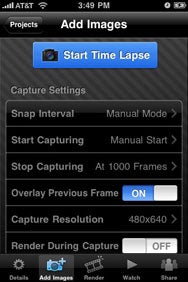 When you launch iTimeLapse Pro, you'll see all the projects you have created in the past along with the option to create a new one. Once you've created and named your new project, it's time to select the capture settings. You can choose between three methods of capture—Timer, Manual or Sound.
With the Timer method, you can select how often to automatically take each picture, ranging from once every 24 hours all the way down to about once every three to four seconds. This method is beast for creating time-lapse videos showing something like a flower blooming.
Manual, as you would assume, requires you to manually take each picture by tapping the screen. It's the best option for making stop-motion videos.
The Sound capture method takes a picture every time a loud enough sound is made. It's basically like a hands-free mode—you can set how loud or soft the sound has to be by adjusting a slider.
After selecting your method, you choose when to start taking pictures—either when you tap the screen, after a certain amount of time, or at a certain date and time. You also select when to stop taking pictures by designating a certain number of pictures (max 9,999), using a timer, or setting a date and time.
iTimeLapse Pro features onion skinning, which overlays the previous frame on top of the current view to make stop-motion much easier. You can select a capture resolution ranging from 120×160 to 1200×1600; if you have an iPhone 3GS, you can even set the resolution to 1536×2048.
Once you're done capturing all your images, it's time to render them to video. Tapping on the Render icon brings up the render options where you select the frames per second, file name, and video resolution (featuring the same sizes as the capture resolution). You can even choose whether or not to include a soundtrack. There are eight different tracks to choose from, and they're all pretty cool, with even a classic in there from Chopin.
After the video is finished rendering, you can watch it from within the app and share it by posting it directly to YouTube, Vimeo, or Facebook; you can also e-mail it, as long as your video isn't over 10MB. In addition, you can export the video to your iPhone's camera roll as a Quicktime movie or as individual pictures. You also have the option of editing your video by deleting frames.
iTimeLapse Pro is a great app for making time-lapse or stop motion videos on the go. The UI is well designed making the app pretty easy to use. There are a few other time-lapse/stop motion apps out there, but in my experience, iTimeLapse Pro is one of the best.
[Tim Mercer is a technology enthusiast, graphic designer, and blogger, whose blog, digital-artist-toolbox.com, offers free resources to the digital artist and graphic designer.]