Pentax offered a parting shot for the PMA crowd with the announcement of two new point-and-shoot cameras today: the 26x-optical-zoom Pentax X90 fixed-lens megazoom and the weatherproofed Optio W90.
Pentax X90: This One Goes to 26x
The Pentax X90 replaces last year's small-and-light X70, offering a slightly larger 26x optical zoom range (26mm wide angle to 676mm telephoto) and a pop-up flash. It offers three levels of image stabilization: sensor-shift, Pentax's digital Pixel Track Shake stabilization, and automatic adjustments to ISO equivalency settings.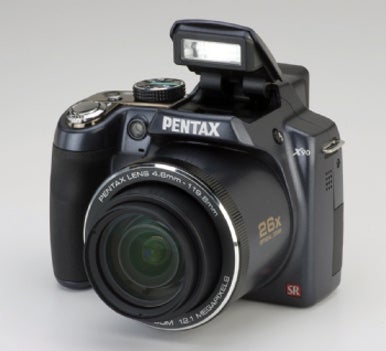 The 12-megapixel Pentax X90 will offer full manual, aperture priority, and shutter priority controls in addition to automated settings, and its video mode captures 720p high-definition video at 30 frames per second. The camera also has an HDMI-out port for viewing clips on an HDTV directly from the camera.
In addition to a 2.7-inch LCD screen, the X90 offers an eye-level electronic viewfinder (EVF); the camera is also compatible with Eye-Fi cards. Slated for April release, the X90 is priced at $400.
Pentax Optio W90: LED-Enhanced Microscope Mode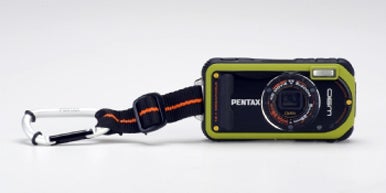 The latest addition to Pentax's rugged line of cameras, the 12-megapixel Optio W90 is rated at waterproof down to 20 feet underwater, shockproof to 4-foot drops, freezeproof, and dustproof. The new ruggedized model also comes with a carabiner strap for attaching the camera to hiking gear.
The W90 offers three bright LED lamps surrounding its lens, which are handy for illuminating macro subjects and underwater scenes. The camera's new "Digital Microscope Mode" is built for shooting subjects as close as 1cm (or about 0.4 inches) from the lens.
Key specs include a 5x optical zoom lens (28mm to 140mm), 720p high-definition video recording at 30 frames per second, an HDMI-out port, digital image stabilization, and a 2.7-inch LCD screen. The Optio W90 is also compatible with Eye-Fi cards and will be available in April for $330. An optional infrared remote control for the W90 will sell for an additional $30.