After numerous false starts over several years, Intuit plans to announce the release of Quicken Essentials for Mac on Thursday. The new product offers a promising new interface, but faces a mass of built-up anger from users who feel betrayed by the company's mismanagement of the product.
Two years of promises
It's been nearly four years since the most recent release of Quicken for the Mac, Quicken Mac 2007 ( ), released in mid-2006. After that, more than a year went by with rumors escalating that the product was not long for this world.
In early 2008, the company announced it would completely rewrite Quicken, and promised a new product called Quicken Financial Life for Mac in fall of 2008. That date came and went, and a new date was promised — summer 2009.
We got a preview of Quicken Financial Life in early 2009, but like a mirage in the desert, the product kept fading into the distance. In July 2009 the company announced another delay, to 2010, with an explanation that it was going "back to the drawing board" with the product.
Perhaps that confusion and intransigence on Intuit's part was a sign of a larger problem with the management of the company's software products. It seems the most likely explanation for Intuit buying Mint.com and immediately installing its founder and CEO, Aaron Patzer, as the new VP and general manager of Intuit's personal finance group. (Buying a competitor and making its head your new leader—talk about an admission that your own company has lost its way.)
With Patzer in charge, Intuit's personal-finance group has shown some signs of a change in direction. Quicken Online will be phased out, the company announced in November, to be replaced by Mint.com.
Now here comes the $70 Quicken Essentials for Mac, a new product marching proudly into the maw of a user base that's ready to tear the product, and Intuit, into tiny little pieces.
What it's got, what it hasn't
Quicken Essentials is a new app, re-written entirely using Apple's development environment, using native interface elements that make the app feel like a lost cousin of iWork. It's got access to 8,000 financial institutions—more than twice as many as the previous version—and Intuit says that number will jump to 16,000 "within the next few months."
The program is replete with colorful graphs, easy-to-use filters, and familiar registers for listing past transactions and viewing upcoming transactions as well. There's a budget bar graph that lets you set realistic budgets based on past expenditures and then track your monthly spending pace. Transactions are automatically categorized with improved accuracy. And the program imports data files from a host of other financial packages, including Microsoft Money, Quicken for Windows, and Quicken for Mac.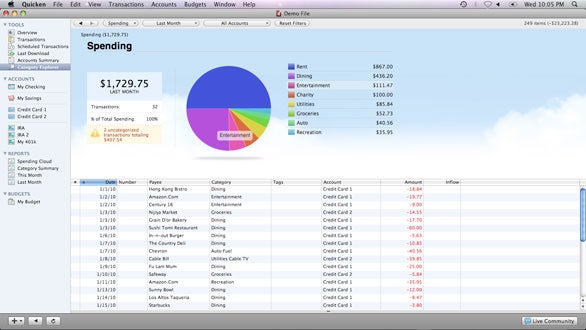 That all sounds good enough. And for some users, that level of functionality will be enough. But when I talked to Intuit's Patzer last week, he acknowledged the anger some users feel about the product's holes—features that Quicken for Mac 2007 offered nearly four years ago that are not present in the current product.
"The product doesn't have the ability to pay bills through Quicken," Patzer admitted, but said that the company's research indicated that only six percent of its users took advantage of that feature. "And on the investment side, you have all your stocks there, but it's just a snapshot… it doesn't do stock-lot accounting," he said. The program also doesn't export to Intuit's TurboTax product.
Patzer appeared to fully understand the criticism that's been leveled against Quicken Essentials (which, to rub salt in the wound, costs $10 more than the more full-featured Quicken Deluxe for Windows), but explained that as the newly installed executive in charge of Quicken, he needed to decide whether to release a limited product now or release nothing until 2011.
"When I came in, I looked at the Mac product and said, 'Holy crap, we haven't put one of these out in three years,'" Patzer said. "It's called 'Mac Essentials' because it's got the essential features used by 80 percent of the users we've surveyed and talked to. So we had to decide, do we want to put a product out that serves 80 percent of the market and is a vast improvement in so many ways, or do we delay it again? And what I thought was, given the growing popularity of the Mac platform… it was better to get a product out that's good for 80 percent of the market."
Next year, Patzer said, Intuit will release both an updated version of Essentials as well as a true Quicken Deluxe version "that would have the stock-lot accounting and potentially bill pay—those are two top candidates."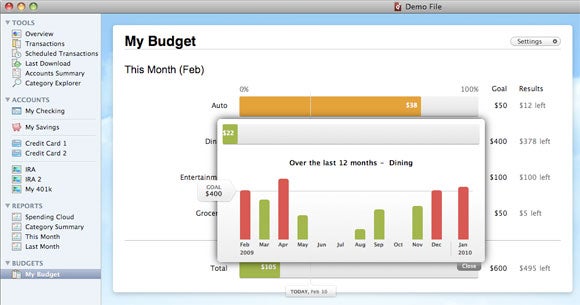 Beyond that, Patzer says that you'll see more similarities to Mint.com in the desktop Quicken products. Patzer says he "personally specced out" Quicken for Windows 2011. "Over time, you'll start to see features and functionality for all the platforms come together. It shouldn't matter if you're using Mac, PC, iPhone, Android, or online" when it comes to features and data availability. Apps should have a native appearance, he said, but the underlying data structures will be the same and it should be easy to go from using a desktop app to the online service and back again.
What happens now?
The big question is, how will Quicken Essentials for Mac be received by the general public? If Internet message boards (including our own) are any indication, there's not a lot of love lost between Quicken users and Intuit. My conversation with Patzer suggests that he's committed to fixing what was obviously a broken system, at least where Intuit's Mac products were concerned, but that there was no way for him to completely rectify matters in the few months he's been on the job.
But Internet message boards aren't always the best barometer of how the world at large will react. If Quicken Essentials for Mac appears in Apple retail stores and becomes a hot seller—which will probably happen if Patzer's suggestion that 80 percent of users will be satisfied by its feature set is true—then the company's decision to release a limited-functionality product this year will have been a smart one. If the company has miscalculated the desire for the features omitted from this version, Intuit will receive yet another black eye.
Finally, what will become of the upset Quicken users who need features that aren't offered by this new app? Intuit's official line seems to be a request that those users continue to use Quicken Deluxe 2007. Some users may take advantage of virtualization features of Intel-based Macs to run Quicken for Windows, while others may consider a different program or even a Website such as Mint.com (which unfortunately doesn't allow you to import your years of historical Quicken data).
There's no way to divine what the final chapter of this long, ugly story will be. I'm sure we'll discover in the comments thread attached to this story just how angry longtime Quicken users are about this release. As for the product itself, stay tuned—we'll be reviewing the final version of Quicken Essentials for Mac soon.
[Updated 2/25, 9:23 a.m. to correct the price of the product, which was raised $10 after a pre-order offer expired.]