Bills ~ On Your Table is a $2 app from PoweryBase, the developer behind NotifyMe. NotifyMe is a mini to-do list, built to keep you on-task by sending you push notifications when it's time to remind you to do something. Bills ~ On Your Table is a customized evolution of NotifyMe, singularly focused on making sure your bills get paid on time.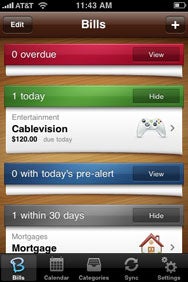 One fact about Bills ~ On Your Table (besides its bizarre use of the tilde) that's completely indisputable is this: It's gorgeous. Every screen of this app, from the overview to more mundane ones like "adding a bill," is exquisitely designed. Your bill reminder app needn't be beautiful, but this one certainly is.
Of course, looks aren't everything. On the usability side, the app is pretty simple to figure out, though it is hampered by a few unfortunate limitations. The good stuff is really good: Adding a new bill is simple—you provide the name, the category, the price, the due date, the recurrence, the timing of your reminder alert to play the bill, and optionally any notes you'd like to add. But it doesn't take long for some weaknesses to become apparent.
First off, I found the "price" field frustrating. Sure, my cable bill is the same each month, but my credit card bill fluctuates. Creating a recurring reminder with a bogus price, or needing to update the price each month once I'm already reminded and have the bill in front of me, seems unnecessarily tedious.
Scheduling recurring bills exhibits a similar failure to mesh with real-world needs. I could indicate that a bill is monthly, weekly, or every X months without difficulty. But many of my bills—most, in fact—don't have a standard mortgage-esque due date ("on the 1st of every month"); rather, they're on 28 or 30-day billing cycles. I can't set up accurate reminders for those in Bills ~ On Your Table, and that's a pretty big problem. Updating my bill reminder's schedule each month defeats the purpose of having a computer (or my iPhone) remind me to pay them.
There's one other recurrence-related weakness, too: Recurring bills are automatically marked as paid by the app on their due dates. I don't know about you, but the only reason I'd ever consider a bill-reminder app is if I'd occasionally forgotten to pay one on time. Bills ~ On Your Table marking bills as paid without my telling it to do so seems nutty.
On the plus side, the app does offer a pair of unique features that many of its competitors don't. You can log your bill amounts in oodles of currencies—170 of them, in fact. You also get Web-based access to your bills through PoweryBase's Website.
I'd love to rate Bills ~ On Your Table higher, extraneous tilde be damned. An app that looks this good, and that's this pleasant to use, would seemingly merit a very positive review. But some key oversights leave it unsuited to its stated core function, making it hard for me to wholeheartedly endorse.
[Lex Friedman is a frequent contributor to Macworld.]