Zach Snyders' 2004 remake of Dawn of the Dead had its fans and its critics. New developer Byte Mark won't have the benefit of such a controversy: Dawn of the Dead for the iPhone—as the developers' name suggests—bites.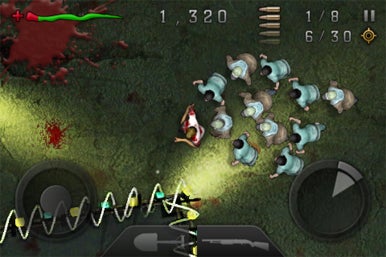 Once the app is opened, the most prominent feature is the 'Buy the Film' link on the home screen, which takes the user right to the iTunes store. Sadly, this marks the high point of the game's functionality.
The five tiny levels in the campaign mode can be beat through in about ten minutes. Just as in the movie, the player fights his or her way through a mall filled with loitering zombies who try to bite. As in most other Zombie killing titles, the object it to take out as many zombies as possible before they devour you. The game is presented from a top down perspective, like a simpler GTA: Chinatown Wars.
Unfortunately the game play is severely hindered by the horrendous AI and awful control. The undead do little more then follow the player around, becoming sitting ducks to melee attacks. The guns are useless, as it is nearly impossible to properly aim them.
There are three character types that play exactly the same and only have a passing resemblance to the characters in the film. Five gun types, and five melee weapons can be unlocked, none of which are fun to use. From what I can tell there are two zombie types, those who go down with one hit with the shovel, and those who go down in two hits.
Replay value is non-existent. Once the "campaign" mode is completed there is a "challenge" mode, which uses the same levels with different goals, yet it fails to provide any new experiences. Increasing the difficulty merely adds more re-death prone zombies to swing your axe at, and there is no multiplayer.
Once you beat the first level I doubt you will want more. The unlockable content is disappointing, and the extra levels offer nothing new. This game can be beat in its entirety in about an hour and a half, a very tedious hour and a half at that.
If you are a die-hard fan of the Dead series and are looking to collect everything available, in lieu of spending $.99 on this game just rent the movie again, or find some random 99 cent Dawn of the Dead knick-knack on Ebay.
[Dan Waingarten carries a shovel with him at all times. Just in case.]