At a Glance
Expert's Rating
Pros
Advanced texturing and material application with Adobe Photoshop user interface standards
Imports many 3D formats including Collada
Powerful spline- and subdivision-surface modeling
Cons
Challenging learning curve for beginning modelers
Does not import native files from LightWave 3D, modo, or Cinema 4D
Our Verdict
Creating 3D models these days involves more than just learning how to model. It means learning how to incorporate and harness the power of different programs, such as Adobe's Photoshop ( ) and Illustrator ( ), alongside your 3D program of choice. You need Photoshop to generate textures and materials and Illustrator to help you with design.
While most 3D programs on the market play nicely with Adobe's industry standard apps, none have thus far created an integrated system that removes the guesswork for its users. That's the strength of Strata Design 3D CX 6.1.
As part of the Strata 3D CX Suite, Strata Design 3D CX offers subdivision- and spline-based 3D modeling as well as texturing, lighting, and rendering. What's interesting about this application is that it's unlike any other 3D application you might have tried. This is because the software is built around an Adobe user interface standard. Its interface is as straightforward as Photoshop, plus it is a bit easier to navigate than many 3D programs. This can be a real benefit or a real problem, especially for beginners.
Tight Photoshop integration
If you're a designer who spends a lot of time in Photoshop or Illustrator creating product illustrations, architectural renderings, or even logos, you'll benefit from being able to navigate and work in a familiar style. On the other hand, you might find it awkward to use a 3D program with this layout style, as keyboard shortcuts and viewport controls common to most 3D applications are a lot different in Strata Design 3D CX.
Beyond interface and workflow preferences, the program is quite powerful, allowing you to import existing 3D models—such as those created in another program or those supplied by a client. Because Strata Design 3D CX works with many standard formats such as OBJ, 3DS, DXF, IGES, OpenEXR, Collada, and others, you can almost always find a way to convert your model, even if standard LWO, LXO, and C4D (LightWave 3D, modo, or Cinema 4D) files won't load.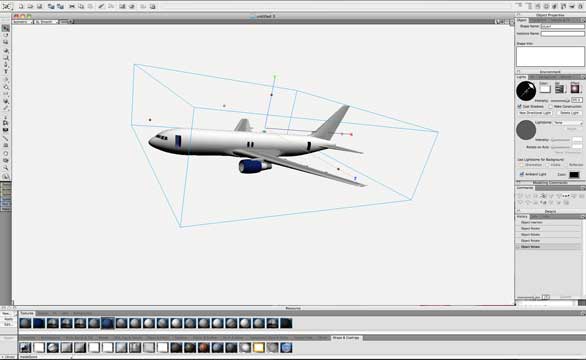 Why go through the trouble of exporting a model from your current 3D application, and then importing it into Strata Design 3D CX? Because of the tight integration with Photoshop, including the six Photoshop plug-ins that come with Design 3D CX. With all that in place, your 3D model can directly connect to and translate between the programs. Using Adobe Photoshop CS4 Extended, you can import your 3D model for advanced painting and texturing and send it back to Strata Design 3D with the click of the mouse. A workflow could look like this: You have a 3D model in Strata Design 3D CX—one you may have created in Strata Foto 3D CX 2 ( ), imported from a third-party source, or used from the included library. Then, you apply textures and materials, either from photographs, or from supplied materials, and further enhance them by porting the model to and from Photoshop.
Strata also offers Enfold 3D CX, a separate Illustrator plug-in, as part of the suite. I'll be reviewing it soon.
Macworld's buying advice
Strata Design 3D CX 6.1, as a standalone app, is an excellent production tool, and I highly recommend it, especially if you also use Adobe apps to design your 3D models. But like many tightly integrated suites, it gains geometric power from being used in conjunction with its suite partners. Together with Strata 3D Foto CX, and other suite apps, it presents a full and consistent workflow for the digital artist in terms of interface standards and usability, offering all the tools needed to capture, create, design, and deliver. Buying the suite also provides a large discount over purchasing any of the components individually.
[Dan Ablan is president of AGA Digital Studios in the Chicago area. He has written 13 books on 3D animation, digital photography, and Photoshop. He also operates a photography studio and is the founder of 3D Garage.com, an online training resource.]