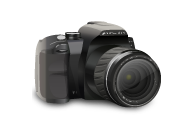 Apple has released Digital Camera Raw update 3.1, which renders both Aperture 3 and iPhoto '09 compatible with eleven new camera from seven different manufacturers.
The update covers cameras of disparate pedigree: Sony Alpha DSLR A500, A800 and A850, Pentax K-7 and K-x, Panasonic Lumix DMC-GF1, Olympus E-P1 and E-P2, Leica X1 and M9, and Hasselblad H3DII-50, a medium format DSLR whose $25,000 price tag likely makes it the most expensive of the bunch.
Digital Camera Raw Update 3.1, which weighs in at a little over 6.7MB, is available through Software Update or directly for download from Apple's support site. It requires Mac OS X 10.5.8 or later or Mac OS X 10.6.2 or later.