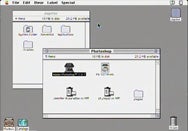 In this video, Photoshop expert David Biedny leads a panel presentation at Macworld Expo looking back at 20 years of Adobe Photoshop. He is joined by Jerry Harris, senior computer scientist at Adobe, creator of Photoshop 7's paintbrush engine, and co-author of PixelPaint. The third panelist is Russell Brown, senior creative director at Adobe where he has worked for the past 25 years.
Highlights of the discussion include trips down Photoshop memory lane, mixed in with actual demonstrations of Photoshop 1.0.7. The panelists edit a photo and look at the original hue, saturation, lightness and brightness modes. They also toy around with the Arbitrary Map tool, which was the precursor to today's Curves adjustment tool.
This video was recorded on Febuary 11th, 2010 at the Moscone center in San Francisco.