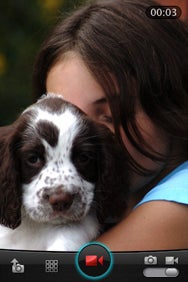 During Macworld Expo, Global Delight showed off the beta version of its newest update to Camera Plus Pro, which adds video support to the already robust photo app. The company's target date for launch was the end of this month and it's made that deadline with time to spare: version 2.0 went live on Friday.
The application's biggest new feature is the aforementioned video function, which allows you to film not only with the iPhone 3GS, but with previous iPhone models as well. These clips can also be geotagged, commented on, and uploaded directly to YouTube, Facebook, and Twitter.
Older features include various capture modes for still images such as burst and timed capture; editing features for cropping, rotating, flipping, or adjusting your photos; password-protection; and copyright, date, and tagging abilities.
Camera Plus Pro is live in the iTunes store now for $2, and works on the original iPhone, 3G, and 3GS. It requires iPhone OS 3.1 or later. A free version, Camera Plus, is also available, but does not contain video features.