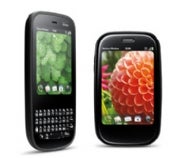 Once the purveyor of the world's most successful handheld devices, Palm has found itself in dire straits this week after an announcement that the company would not meet the financial guidance it had provided to Wall Street investors. The difference was attributed to lower than expected sales of its webOS-based smartphones like the Palm Pre.
That's not enough to get Palm CEO and chairman Jon Rubinstein down, though. The former Apple executive issued a missive to the troops, discussing what steps the company was taking to help correct its course. Top on the list were strengthening the company's relationship with Verizon Wireless by training sales people and engaging in a more widespread advertising campaign.
How did Palm find itself in hot water? While the company had made early strides in the smartphone arena with its Treo line of phones, its PalmOS had aged poorly—so much so that the company even started selling handsets powered by Windows Mobile. In an attempt to revitalize the company, it started work on a new operating system dubbed webOS, which it debuted on the Palm Pre at CES in 2009. The introduction was impressive and spawned talk of Palm as a worthy competitor to Apple. The Pre didn't go on sale until June 2009, and our own review deemed it a respectable entry in the market, though not without its flaws.
Unfortunately, the webOS platform was hampered by limited availability of the SDK for third-party developers, which put it in a tight spot when competing against Apple's year headstart in the app market—a fact that Apple VP Phil Schiller didn't hesitate to poke fun at in the company's WWDC keynote. In addition, Palm also made the mistake of trying to piggyback its way onto Apple's iTunes software for media syncing capability. The move may have earned Palm plenty of press, but ultimately the company found itself on the losing end of the ping-pong match.
Six months of exclusivity with Sprint didn't necessarily help Palm's case either, especially once word began to leak that the phone was expected to make its way to the much more popular Verizon network in early 2010. Those leaks took the wind out of the sails of Palm's CES 2010 press conference, turning what should have been a major strategic announcement into a foregone conclusion.
However, even updated models of its handsets on Verizon haven't been enough to bolster Palm's sales to the extent that it had hoped. The company said on Thursday that its fiscal year revenues would be "well below" the $1.6 to $1.8 billion that it had forecast and expected revenues of $300 to $320 million in the current quarter.
There's no question that it's late in the game and Palm's down several runs, but oftentimes a team plays better when they're behind—there's nothing people like more than a comeback. Some have gone so far as to wildly theorize that Palm's situation and its roster of former Apple employees bodes ill for the team from Cupertino in a future without Steve Jobs. But you've also got to admit that, of all people, ex-Apple folk know how to be the scrappy underdog.