When I did a Macworld video on screen savers, it turned out to be surprisingly popular, despite the fact that screen savers are no longer must-haves—Mac users apparently still appreciate idle-time visuals.
But there are also screen savers that are useful. Not because they occupy your screen when you're otherwise busy, but because they serve a useful purpose while occupying your screen. For today's Gems, I've picked two of my favorite useful screen savers, Status Screen Saver and ScriptSaver.
Status Screen Saver
If you enjoy a good screen saver, but you also want to be able to keep an eye on incoming communication and other important info, Status Screen Saver can help. This screensaver lets you choose any other screen saver as its visual background, but displays, along the bottom of your screen, icons for the applications and data you choose, along with the status of each.
Status Screen Saver currently supports ten applications and three types of system data. For each application you choose—your options are Adium, iCal, iChat, Google Notifier, Mail, NetNewsWire, Skype, Things, Twitterrific, or Vienna—you'll see the application icon along with a numeric display indicating the number of new messages, articles, or tasks. For the system modules—Battery, Time, or Uptime—you see a representative icon and the remaining battery life, the time, or your Mac's current uptime, respectively.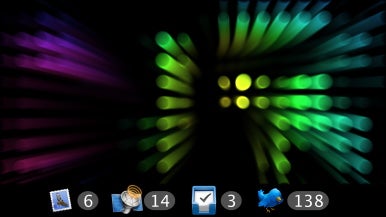 You can choose to have the status info scroll across the screen—useful if you've enabled more items than fit—and you can customize the size of the status bar, the color of status badges, and how frequently status information is refreshed.
Status Screen Saver is available in separate versions for OS X 10.5 (Leopard) and OS X 10.6 (Snow Leopard).
ScriptSaver
I briefly mentioned ScriptSaver in my video on screen savers, but it deserves some dedicated coverage. Unlike most screensavers, which show you something, ScriptSaver does something. Specifically, it can run any AppleScript when the screen saver activates, and another AppleScript when the screen saver deactivates.
For example, you could create a script that logs out the current user, and then set that script to run whenever the screen saver activates, making ScriptSaver a simple way to automatically log out after a period of inactivity—great for lab environments or to add another layer of security to your Mac.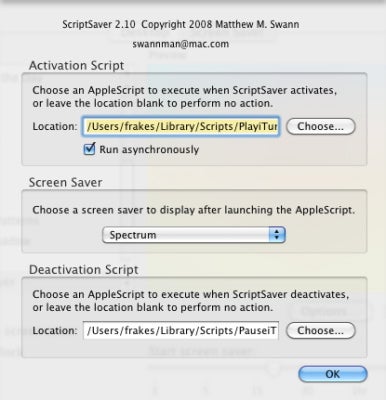 The developer provides a number of example scripts (download link), including ones for logging out, playing iTunes, and pausing iTunes. You can use the latter two to automatically pause iTunes playback when the screen saver kicks in and then resume playback when you start using your computer again.
As for what you see in between, ScriptSaver lets you choose any other installed screen saver. For example, you could choose Status Screen Saver—amusingly, if you do this, you're actually running three screen savers modules together: ScriptSaver runs Status Screen Saver which runs the screen saver you've chosen for your visuals!
Want to stay up to date with the latest Gems? Sign up for the Mac Gems newsletter for a weekly e-mail summary of Gems reviews sent directly to your Inbox.