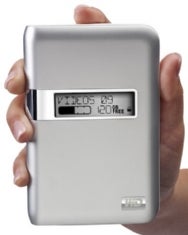 Western Digital on Monday announced the newest member of its popular Passport series of bus-powered, portable hard drives, the My Passport Studio. The new drive features FireWire 800, USB 2.0, and an e-label display that can be seen even when the drives is powered down.
The My Passport Studio drive comes pre-formatted for Mac and works with Apple's Time Machine backup application. Also included with the drive is WD SmartWare software, which can be used to automatically back up up data as it is written or changed, as opposed to backing up new and changed files at preset intervals, as Time Machine does.
WD SmartWare allows you to password-protect your drive and features 256-bit hardware encryption. The always-on e-label shows available capacity, as well as any label information that you'd like to add—such as Photos, Music, or Backups, for example.
The My Passport Studio comes with a three year limited warranty and is available immediately in three different capacities: 320GB for $150, 500GB for $180 and 640GB for $200.
When you purchase through links in our articles, we may earn a small commission. This doesn't affect our editorial independence.