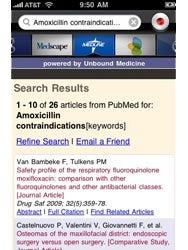 It's time to take healthcare "out of the 70s." That was the message put forth Monday at this year's HIMSS (Healthcare Information and Management Systems Society conference—a big get-together for doctors, nurses, and health care professionals) by keynote speaker and Sprint CEO Dan Hesse. Fortunately for healthcare, software companies like Nuance Communications are determined to take that message to heart.
At the conference, Nuance—makers of the popular Dragon Dictation software—announced a new line of Dragon products designed specifically for the smartphone-enabled medical community in mind. The Dragon Medical Mobile App suite (containing three new apps and a SDK for fellow medical developers) provides an easier and more efficient way to not only transcribe short notes, but also allows health care professionals easy access to Electronic Health Records (EHRs).
The first application, which Nuance hopes to have available by April 30, is Dragon Medical Mobile Search. The program lets users search high-profile Websites by voice, using Nuance's NaturallySpeaking recognition technology. MedScape, MedLine, Epocrates, and Google are the sites listed in the initial release, with others presumably coming down the line.
The second of the three apps, Dragon Medical Mobile Dictation, is designed similarly to the current iPhone Dragon Dictation app and features dictation-based note-taking, e-mails, and texting. The third application is Dragon Medical Mobile Recorder, which is built for organizations which utilize Nuance's eScription service or its Dictaphone Enterprise Speech System, has full transcription capabilities, and can generate high-quality documents.
Meanwhile, Nuance's Mobile SDK will give developers the option of working with Dragon technology; Eclipsys has already incorporated some of these features into a mobile version of its Sunrise Clinical Manager, also premiering at the HIMSS conference.
Nuance has no definitive release timeline beyond its first app, but if you happen to be at HIMSS, you can drop by the company's booth (#7633) to see previews of the entire suite. Otherwise, you can stay informed by filling out a short form on its Website.