Killing Nazi zombies is a guilt-free pleasure. Killing zombies you might feel bad about. But Nazi zombies? They were evil before they became mindless ghouls. Activision recognizes the pleasures inherit in killing the fascist undead, and thus charges you a full $10 to download and play their Call of Duty: World at War: Zombies. Whether or not its worth it is completely dependent on your lust for blood.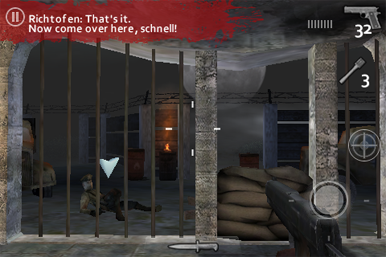 The game finds you in a spooky bombed-out disaster area circa World War II, where the Nazi enemies are suddenly a whole lot more terrifying. The tutorial plays out like a cinematic stage in the game, with a German solider explaining how to move, use weapons, and repair barricades. Unfortunately, your mentor quickly succumbs to the zombie sickness and you have to take him out, as well. Once you've proven you can handle all the necessary tasks, it's on to the real thing.
The first level, Nacht der Untoten (Night of the Undead) takes place in a creepy old bunker where you've barricaded yourself to prepare for the onslaught of Nazi zombies. The grunting, gurgling creatures amble toward you in authentic zombie-game fashion—only with the added terror of SS uniforms. Zombies enter the room through one of five barricades, meaning you'll have to keep vigilante covering numerous entry points to stay alive.
Zombie Verrükt, a second map available to download for an obscene $5, feels like a natural progression in terms of difficulty and story development. The "verrükt" is an asylum, where the crazies are now crazy zombies. The set-up is very much the same as the first, with monsters jumping over two barricades, plus the addition of an open corridor as a third point of entry. Each map includes increasingly difficult waves of zombie attacks, with the creatures becoming progressively stronger and more numerous.
In general, the controls take a bit to get the hang of but are well suited to the 3D format. A joystick on the left side of the screen lets you walk in each direction, while a second joystick on the right lets you rotate your view to change direction. It takes some practice to learn how to use them simultaneously, as they aren't very precise and sometimes felt like I couldn't tap them lightly enough to get just the right angle. Simply put, the first four or five times I played, I was zombie chow.
Like the console version of World at War, a button allows you to lift your gun and take aim for precise firing. It gets the job done, but limits your peripheral vision, so be sure to tap it again quickly after you've taken out a zombie in order to expand your view. You start out with a simple pistol but each kill increases your points, allowing you to buy more powerful guns and ammo from chalk outlines on the wall. Just walk up to a chalk outline and a button will appear on the screen to select your new weapon. You also have a limited number of grenades for more efficient kills, and a knife for when the zombies get too close to shoot.
After some fumbling, I decided to go with ultimate passivity by backing myself into a corner, then panning between entry points and taking out the zombies as they came. This minimized the amount of actual moving that I had to coordinate with aiming, which is hands-down the hardest part of the game. Still, my strategy had one major flaw: I was often confronting many zombies at once, and with each gun's slow reload time, I was overwhelmed often.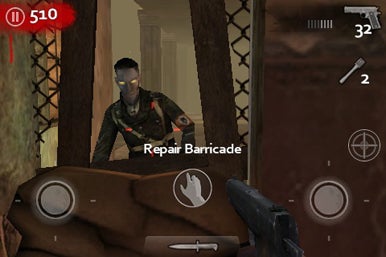 There are two difficulties in single player mode to add a little more dimension, as well as a multiplayer mode with choices to play over WiFi on your router, Bluetooth with a friend, or online with remote players. Also, a host of achievements and leader boards make things more interesting, if you're willing to play the same map over and over again.
This game is awfully expensive, to be sure, but there is a lite version for those feeling non-committal. It only includes the first map and even then, only three waves, but it's a good preview if you're not sure you want to fork over all that money. And no one would blame you, either. There are a lot of other high-quality, well-developed iPhone games out there that don't cost $15 for a measly two maps, with future maps surely costing another arm and a leg.
It's clear that Activision is just capitalizing on the Call of Duty brand, but die-hards will probably still pony up, regardless. Though the experience of a console game will never seamlessly translate to an iPhone version, War at World: Zombies is still a mixed effort that seems marred by its controls.
[Meghann Myers hates Nazi zombies.]