At a Glance
Expert's Rating
Pros
Fully integrated into Illustrator
Enhances design workflow by easing technical issues
Well-integrated with other Strata suite programs
Cons
May not be as valuable for those who already know 3D
Expensive
Our Verdict
Strata Enfold 3D CX 1.0 is a plug-in that allows you to create professionally folded 3D designs within Adobe Illustrator ( ). Fully integrated into the rest of the Strata 3D CX Suite, this plug-in lets you design your package in Illustrator and export it to Strata Design 3D CX to texture, light, and render your final images.
This plug-in enhances Strata's overall integration and ease of use with Adobe's flagship design products. The company offers Enfold 3D CX as a separate package, and at a price tag that seems steep for a mere plug-in.
But it is not a mere plug-in. This app, unlike the Photoshop plug-ins built into Strata Design 3D CX 6.1 ( ), integrates into Illustrator and creates its own interface within the application. What is innovative about the Enfold program is its seamless operation. It functionally expands Illustrator, rather than just acting as a typical plug-in or third-party product. And as a result, the design workflow is significantly improved.
Enfold 3D enhances Illustrator by adding two new tools, palettes for 3D and fold control, sophisticated distribution technology to deal with the graphics of crossing folded edges, and several commands to streamline the 3D design process. It lets you define die-cut lines and folding scores, apply textures and materials, create print-ready packaging, and view the results in 3D. The Enfold program eliminates the guesswork about wrapping images across seams and other technical issues, and helps artists avoid time-consuming mock-ups.
Enfold, in effect, gives you 3D modeling right within Illustrator. Designers will find that generating their products in a 3D-like environment will make the process more fluid and creative. That's because they'll be thinking less about the tools and more about the project at hand. And when the design is finished, you can export the 3D model for presentations.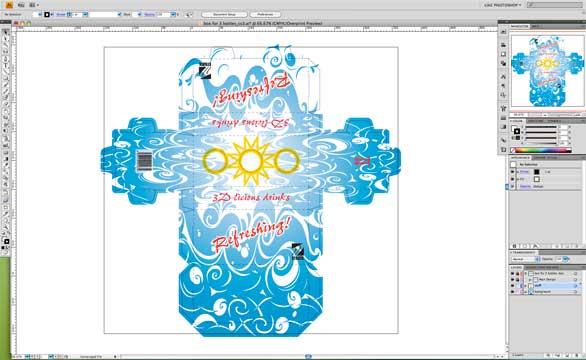 Macworld's buying advice
Strata Enfold 3D CX 1.0 is an excellent production tool that functions as plug-in to Illustrator. Its price may seem steep, however bundled and used in conjunction with other Strata suite packages such as Strata Foto 3D CX ( ), Strata Design 3D CX 6.1, and Strata Live 3D CX, this plug-in becomes more useful as well as a better value. If you're a package designer, the Enfold plug-in can be invaluable. But if you already know 3D modeling, this program might not be worth the $695 price in and of itself.
[Dan Ablan is president of AGA Digital Studios in the Chicago area. He has written 13 books on 3D animation, digital photography, and Photoshop. He also operates a photography studio and is the founder of 3D Garage.com, an online training resource.]