At a Glance
Expert's Rating
Our Verdict
[Editor's note: The MPAA and most media companies argue that you can't legally copy or convert commercial DVDs for any reason. We (and others) think that, if you own a DVD, you should be able to override its copy protection to make a backup copy or to convert its content for viewing on other devices. Currently, the law isn't entirely clear one way or the other. So our advice is: If you don't own it, don't do it. If you do own it, think before you rip.]
When, back in late 2006, we last looked at the free DVD-ripping tool HandBrake, it had just turned 0.9.0. And for its 0.9.0 birthday it gained greater ease of use, better picture quality, conversion presets, and advanced encoding features. In the several years since, HandBrake's version number has advanced only to 0.9.4, but that seemingly small version increment actually reflects big changes.
In the interest of filling in the gaps between HandBrake 0.9.0 and the current version, I should mention what versions 0.9.1 through 0.9.3 brought to the table. Version 0.9.1 provided mostly bug fixes, while 0.9.2 introduced support for Dolby Digital 5.1 audio in MP4 files, iPhone-compatible anamorphic video, variable frame-rate encoding, and greater stability.
Version 0.9.3 brought a much more significant change: the loss of HandBrake's built-in DVD-decryption code, as HandBrake's developers got out of the copy-protection-stripping business. However, they made no secret of the fact that if you installed a copy of VLC Media Player, HandBrake would take advantage of VLC's ability to skirt DVD copy-protection schemes, and thus allow you to rip commercial DVDs. (Such is the case today—you still need VLC to remove copy-protection from commercial DVDs when using HandBrake.)
Improvements in 0.9.3 included the capability to choose other video sources, including VIDEO_TS folders. Video quality was improved, as was audio-video synchronization. And Handbrake 0.9.3 tackled its fair share of bugs.
Back to the present: HandBrake 0.9.4 is speedier than previous versions. This is partly due to improvements made to the free x264 video encoder that works much of HandBrake's magic. According to HandBrake's development team, these improvements result in smaller, better, and faster encoding.
HandBrake is also now available in 32- and 64-bit versions, with the 64-bit version promoted as offering a speed boost of up to 10 percent. And you don't need Snow Leopard to take advantage of the 64-bit version—it works under Leopard on any Intel Mac with a Core 2 Duo or better processor. (Those with Core Duo or Core Solo processors should use the 32-bit Intel release. A Power PC version is available, as well.)
I tested the 64-bit version under Leopard on a 2.66GHz quad-core Mac Pro with 8GB of RAM. Using the Apple TV preset, HandBrake encoded the 1-hour, 2-minute premiere episode of HBO's Six Feet Under in 31 minutes and 41 seconds; the 32-bit version took 34 minutes and 53 seconds to do the same job. Not quite a 10-percent difference, but close.
I didn't see a remarkable change in encoding times when running these same tests under Snow Leopard on the same Mac Pro, and you'll see little difference on a slow Mac—if you have a Power PC Mac, an older Intel iMac, or a pre-2009 Mac mini, you should still be prepared to wait hours to rip a feature-length DVD. If you have such a Mac and are in a hurry, the Little App Factory's $20 RipIt will do the job more quickly (though it rips the entire disc rather than just a TV episode or main feature, and it doesn't convert the resulting video to an iPod-, iPhone-, or Apple TV-compatible format).
The new version also improves previews: Whereas older versions could display still frames to show how a to-be-encoded video would look with the current settings, version 0.9.4 lets you view video clips, as well, giving you a far better idea of the finished video's quality. The Preview window also lets you navigate to other areas of the video, and choose to view clips up to 60 seconds in length.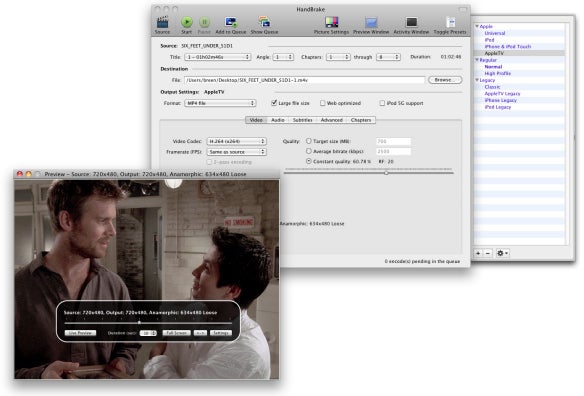 A new Picture Settings window lets you adjust the height, width, and cropping of your video, as well as tinker with deinterlace, decomb, and deblock settings. These latter settings are still for advanced users, but they're more obvious than they were in the past.
When HandBrake first appeared, a key focus was on creating videos that looked good at smaller file sizes. The latest HandBrake still lets you create small files, but it also makes it easy, thanks to a new Constant Quality slider, to create great-looking (or, at least, consistent-looking) videos when file size isn't a big concern. This feature keeps the converted video's quality consistent across the duration of the video. (When using this option, the 2-pass Encoding option is disabled, as it's unnecessary.) By default, many of HandBrake's presets are set at a constant quality of just over 60-percent.
HandBrake 0.9.4 finally allows you to include subtitles in your converted video without burning them into the video track: When using the new Forced Only option, subtitles appear during playback only when you ask for them (via a command in your video player).
Finally, HandBrake 0.9.4 loses some baggage from the past, such as the AVI, XviD, and OGG/OGM encoding options, as well as a number of outdated presets—you can still encode video for PSP, PS3, and Xbox 360, but the specific presets for them have been removed, along with the Film, Animation, and Television presets. These seem like perfectly reasonable omissions, particularly given the popularity of devices that suffer not one bit from a steady diet of H.264 video.
For those who wish to convert the DVDs they own for the purpose of archiving their content, carrying it on a laptop, or making it compatible with a device such as an iPod, iPhone, or Apple TV, HandBrake is a godsend. It's approachable enough for those new to DVD ripping, but has enough features for more-demanding users who want to tweak their videos to the nth degree. And who can argue with free?