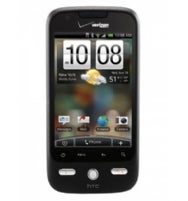 Smartphone maker HTC has joined Nokia on the patent infringement express train—at least, that's what the folks at Apple are arguing.
On Tuesday, Apple filed a patent infringement lawsuit against HTC with the International Trade Commission and the U.S. District Court of Delaware. Apple is accusing the company of infringement on 20 of its iPhone-related patents. The patents are related to the iPhone user interface and the smartphone's underlying architecture and hardware, Apple said in a statement.
Apple's statement did not specify which HTC products infringe on Apple patents.
HTC has not yet seen the lawsuit filing, so cannot comment specifically about it, said Keith Nowak, media relations manager at the company's North American headquarters in Bellevue, Washington. However, the company has been making phones for years and holds many of its own patents, he noted, adding "we value patent rights and their enforcement."
This suit brings to mind Apple's recent patent troubles with Nokia—although in this case HTC's not the one firing the first shot.Steve Jobs himself is quoted in Apple's statement: "We can sit by and watch competitors steal our patented inventions, or we can do something about it. We decided to do something about it. We think competition is healthy, but competitors should create their own original technology, not steal ours."
This mirrors a quote given by Apple's General Counsel, Bruce Sewell, after Apple countersued Nokia in December: "Other companies must compete with us by inventing their own technologies, not just by stealing ours."
This isn't the first time that Apple has made noises about defending its intellectual property. In January 2009, shortly after the release of the Palm Pre, Apple's COO Tim Cook said on the company's quarterly financial results call that Apple didn't mind competition, "as long as they don't rip off our [intellectual property]." Apple, of course, never sued Palm, though that didn't really help Palm much.
Update: John Paczkowski over at All Things D has posted the actual complaints.
[Updated 10:52 a.m. PST to incorporate reporting from Nancy Weil of IDG News Service.]