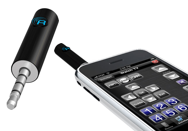 Your iPhone can already control your television—sort of. If you use a TiVo or a Mac mini or an Apple TV to power your media center, numerous iPhone apps can take the place of your remote control. But all those remote apps, by necessity, eschew the way that virtually every remote control on the planet works: Infrared (IR) blasting. To help bridge that divide, ThinkFlood has announced the RedEye mini.
A few months back, the company released the RedEye, a pricey app and dongle combination, that brought IR capability to the phone. But it required Wi-Fi-to-IR conversion, which can slow down things for devoted channel surfers, and it had to be plugged into the iPhone's dock-connector port. The RedEye mini looks a lot more promising—not to mention affordable.
The RedEye mini is a tiny dongle that plugs into your iPhone (or iPod touch) via the headphone jack, and blasts IR signals directly to devices in your entertainment center. The companion RedEye app lets you create custom layouts for your remote's buttons, including the creation of macros. That means that instead of swapping the inputs and turning on your receiver when you want to watch Finding Nemo, you can just tap the "Watch a DVD" button (that you've previously programmed), and everything just works.
ThinkFlood says that the RedEye mini will go on sale this spring for $50.