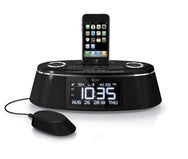 Yes, bed shaker technology. If no mere auditory alarm can rouse you from your slumber, perhaps you should consider this brand new iPhone/iPod alarm clock that aims to wake you up with good vibrations: iLuv's iMM178 Vibe Plus.
Imagine yourself in Vegas. The shows, the all-you-can-eat buffets, the gambling, the well-stocked pawn shops, that TV channel that plays nothing but Phil Collins hits, the ritzy hotels. The vibrating beds!
Now that feeling can be yours wherever you go, thanks to a small device attached to the Vibe Plus that iLuv calls a bed-shaker. Simply place that shaker into your pillow or on your mattress, set the Vibe Plus's alarm to activate up to 10 days in advance or on a weekly schedule, and it'll get those so-called magic fingers going at your command. No need for quarters.
Oh, there's more. The bed shaker isn't just a vibrator—it's a speaker, too! You can set it at three different levels of volume so you can bump and jive to Sussudio while you wake up, and your pockets won't feel the pinch of Vegas.
Obviously there's quite a bit of room to get creative with this wonderful device, but I'll leave that to your imagination. For the more mundane stuff, iLuv has all the other essentials covered. You can set the alarm to play noise through the speaker or the clock charger itself. To help simplify setup, the Vibe Plus's dock synchronizes the time automatically with iPhones and iPods. An FM radio with PLL digital tuning technology makes for a decent fallback for the iPodless, and the device supports presets for up to 10 different radio stations.
The iLuv iMM178 Vibe Plus costs $90 and works with all iPhones, iPod touches, nanos, minis, as well as every iPod classic as far back as the fourth generation.
Note: When you purchase something after clicking links in our articles, we may earn a small commission. Read our affiliate link policy for more details.