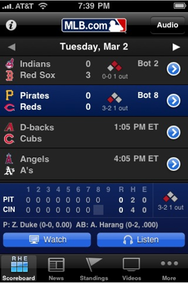 If you've been eagerly waiting for your chance to ditch the hot stove in favor of some grapefruit league action, then wait no longer: Major League Baseball's MLB.com At Bat 2010 hit the App Store on Tuesday, just in time for the beginning of spring training.
As its predecessor did for 2009, the new version of At Bat lets you listen live to every regular season and postseason major league game in 2010, as well as watching streaming video of games (as long as they're not blacked out in your area). You can also bring up box scores, stats, use the Gameday feature to track every pitch and play, watch video of highlights and condensed games, and even get push notifications so that you can stay up to the minute with your favorite team even while browsing the Web or reading your e-mail.
In case that's not enough to send the scent of peanuts and hot dogs wafting gently to your nose, MLB's added some new features to this year's app, including live audio and video of spring training beginning in mid-March, breaking news, a searchable video library, enhanced live game video for the regular season, selection of home or away broadcast feeds during regular season, and even, somehow, background audio playback (how they've accomplished that, I'll be interested to see). What's more, MLB says more features will be rolled out during the 2010 season—to paraphrase Yogi Berra, it ain't the final version until it's the final version.
The whole shebang comes at a price of $15. MLB.com At Bat 2010 runs on any iPhone or iPod touch running iPhone 3.0 or later and is available now from the App Store.