Having owned a computer or two in your lifetime you understand that, like all things mortal, they and their component parts eventually fail. Should that component be the computer's hard drive, you could lose not just your data, but data you've paid for in the form of iTunes Store content or the sweat for all of the CDs and DVDs you've ripped over the years.
With iTunes Store content, Apple makes it clear that anything you buy (except for iPhone apps) is for one-time download only—the company neither promises nor is obligated to let you download stuff again. (However, as our own Philip Michaels discovered, a well-placed e-mail request to Apple may open the gates to your now-lost purchases.) Because there's no official recourse, you must assume the responsibility for backing up your purchases as well as the many CDs in your music collection that you spent hours ripping. Fortunately you have many options.
Burn 'em
In iTunes 9 you can easily burn your purchases to CD or DVD as data. Just choose File -> Library -> Back Up To Disc and the iTunes Backup window appears. Within this window you have the option to back up your entire iTunes library and playlists or back up only iTunes Store purchases. An adjunct option lets you back up only those items added or changed since your last backup.
Regrettably, iTunes doesn't tell you in an obvious way just how much data this is. There are a couple of ways to find out.
The first is to insert a blank CD or DVD. iTunes will check to see how much data it needs to back up and then display a dialog box that spells out approximately how many blank discs it will require.
Alternatively, in the example of iTunes Store purchases, choose File -> New Smart Playlist, create a rule that reads Purchased Is True, and click the OK button to dismiss the Smart Playlist dialog box. iTunes will create a smart playlist that lists all the purchased content in your iTunes library—movies, TV shows, music, music videos, and audiobooks. (Yes, there is a Purchased entry in iTunes' source list but it doesn't always include all of your purchased content.) At the bottom of the iTunes window you'll see how much storage space this consumes. Having this information will help you decide whether backing up to CDs or DVDs is a practical solution.
Note that you can also burn music files as audio tracks on an audio CD. To do that, ensure that the tracks are in some kind of playlist—standard or smart—select the tracks you want to burn, and then click the Burn Disc button at the bottom of the iTunes window. A dialog box will appear that offers you the option to burn the disc as an audio CD, MP3 CD, or data CD. Audio CDs can hold only up to 80 minutes worth of music, so this is not an efficient storage option. The MP3 CD option can hold up to around 11 hours of music, but only works with MP3 files (tracks you've ripped, purchased from a place like Amazon, or converted from AAC or another audio format, for example) and is only useful if you have a CD player that can play MP3 CDs. And a data CD or DVD is the same disc I described earlier for backing up your media. iTunes doesn't provide the option to burn purchased videos as playable discs, only as data for backup.
Although Blu-ray burning isn't supported by iTunes or the Mac OS, you can purchase a Blu-ray burner and, with a tool such as Roxio's $100 Toast 10 Titanium ( ), enjoy the high-capacity storage that Blu-ray discs—25GB or 50GB each—provide to back up your iTunes library. Remember, however, that you'll need a drive that can read Blu-ray to access the content on those discs in the future.
Copy 'em
A less time-consuming option is to simply copy your iTunes library to another hard drive. Again, you have a couple of options.
The simplest is to use Time Machine in league with an external drive. As with other data, Time Machine will keep an eye on your media and back it up as you add new content. If you want to back up just your purchased media with Time Machine you'll have to move copies of it to a separate folder and then exclude from the backup the folder where iTunes stores this content. Given that it's inconvenient to re-rip CDs and DVDs to restore their content to your iTunes library, it makes sense to back up the entire library.
You can also back up this content by dragging it to an external drive—by default you'll find the iTunes folder by following this path: youruserfolder/Music/iTunes/. (This will also back up your iPhone/iPod touch apps, iTunes library file, playlist info, and so on). The downside is that when you add items to your iTunes library, you need to remember to copy those item to your backup manually.
You can avoid this bother by using a synchronization utility such as Econ Technologies' $40 ChronoSync 4 ( ChronoSync 3.3.6; ) to keep the two folders in sync. When creating such a synced backup, it makes sense to create a synced copy that works in one direction only—any files changed in or added to your iTunes folder will be copied to your backup folder, but any files you've removed from your library will remain in the backup. This ensures that you have a master backup of all your content, even when you've removed large movies or TV shows from your iTunes library after viewing.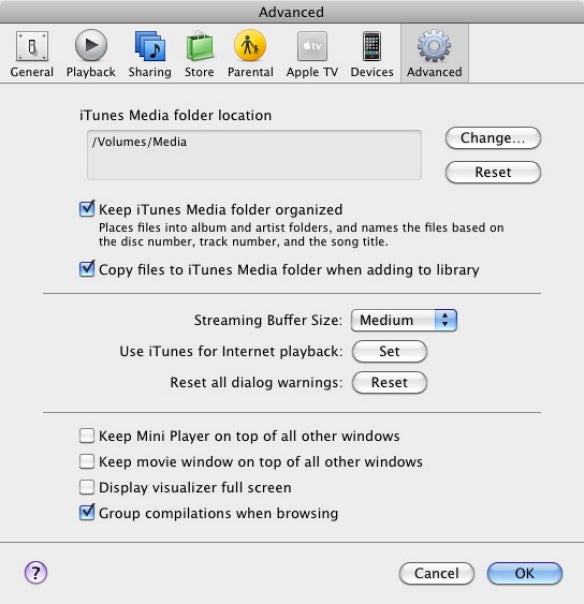 iTunes can also copy your iTunes library to another drive for you. To do that, move to the drive you intend to copy your library to and create a new folder—call it iTunes Media, for example. Launch iTunes, open its preferences, click the Advanced preference, and make sure that the Copy Files To iTunes Media Folder When Adding To Library option is enabled. In this same window, click the Change button in the iTunes Media Folder Location area, and in the sheet that appears, navigate to the iTunes Media folder you created on the external hard drive. Click OK to dismiss iTunes' preferences window.
Now choose File -> Library -> Organize Library, and in the Consolidate Library window that appears, enable the Consolidate Files option and click the OK button. iTunes will proceed to copy the contents of the library from its current location to your iTunes Media folder. (If you also enable the Upgrade To iTunes Media Organization option in the Organize Library window, iTunes will group your media into Music, Movies, TV Shows, and Podcasts folders.)
Note that if you leave iTunes' settings as they are, the software will look to this new location for its library (and add any new items to it). You can tell iTunes not to do so by accessing that Advanced preference again and using the Change button to navigate back to your original iTunes Music folder.
Cloud 'em
If you have either a small amount of iTunes content or lots of bandwidth and patience, you can back up your library to Internet-based storage services. (Because of space and bandwidth issues, you might want to focus only on purchased content for online backup.) Here too you have some choices.
If you're a MobileMe subscriber, you have 20GB of storage space to play with. You can use some or all of that space for your iTunes content. While you can simply mount your iDisk and drag content from your iTunes library to it, if you're running OS X 10.4 (Tiger) or 10.5 (Leopard) you can also use Apple's Backup 3 application to do the job. (Backup 3 is not compatible with Snow Leopard.)
You'll find Backup in the Software folder inside your iDisk. Copy it to your Mac, launch it, choose Plan -> New Plan, choose Custom in the sheet that appears, and click Choose Plan. Drag the folder you want to backup to the Backup Items area. Then click the Plus (+) button below the Destinations And Schedule area and choose iDisk from the Destination pop-up menu. While this sheet is exposed you can create a backup schedule to help keep the backup in sync with the contents of your iTunes library.
Or if your backup needs are small and money's tight, sign up for a storage service such as Dropbox or SugarSync and take advantage of the 2GB of free storage they offer. If you have a lot of content to backup, you can purchase additional storage from Dropbox or Sugarsync or turn to an online backup service.
Pack 'em on your iPod or iPhone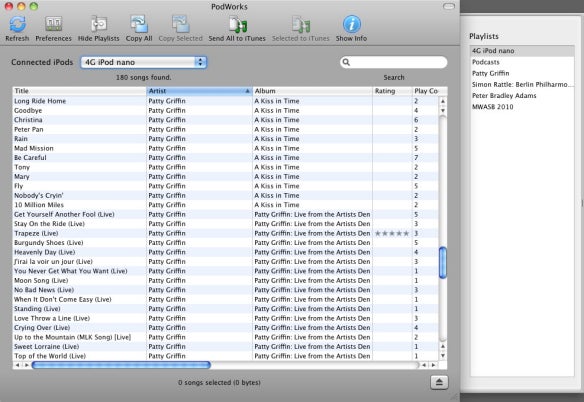 Any media that you've synced to your iPod or iPhone can also serve a backup (except for any HD videos, which the iPhone and iPod don't support). Although iTunes doesn't let you copy files back from an iiPhone or iPod, there are a variety of tools you can use to retrieve media from these devices.
We recently looked at 10 iPod extraction utilities, and my favorite is Sci-Fi Hi-Fi's PodWorks. When seeking such a utility, be sure that it can not only sync your iTunes media back to your Mac, but also your playlists, play-counts, and ratings.
Put 'em somewhere else
And finally, like all good backups, this one is only as secure as the location in which it's stored. Should your backup hard drive be subjected to fire, flood, freeze, or furball, it will be just as dead as the Mac where the original files are stored. While a fire safe is a good start, a safe-deposit box or multiple backups scattered among friends and family is better.