iQuarium is a nifty little app from Infinite Dreams that is just what it sounds like—a mobile aquarium for your iPhone.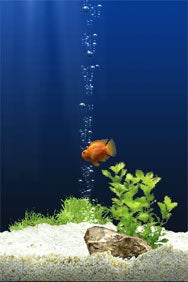 The $1 app starts off with just the basics: a fish bowl, a goldfish, and some fish food. To keep you from filling it up with stuff and getting bored quickly, all of your fish's accoutrements are assigned point values, and you earn one point for every 10 minutes you keep your fish alive.
Soon after things start up, you can add gravel and a plant; you can also start interacting with your fish by lightly dragging your finger across the screen so he can follow it. If you're a little sadistic, you can also tap on the glass and scare the fish. Later comes more plants, rocks, a background, and all the things that make real aquariums entertaining.
The twist of iQuarium is that you have to consciously parent your little fishy. Feed him once a day or he'll croak after a week. Make sure to visit him periodically, lest he become neurotic from neglect. Your fish will develop a personality based on how well you take care of him.
iQuarium is also equipped with Open Feint, so you can share your stats with other users and feel superior about your virtual fish tank skills. (The free version of the app doesn't feature Open Feint integration and offers limited decorations for your virtual aquarium.)
As long as you can remember to open the app once a day, iQuarium is pretty fun to have around.However, it can be a little frustrating to wait for hours or days to add new things. And it might be better if you could place the accessories yourself instead of the app choosing where things go for you.
Other than that, iQuarium is a fairly low maintenance way to have a virtual pet on your iPhone, with crisp graphics and plenty of unlockable little surprises the longer you keep the fish alive—not a bad way to spend 99 cents.
[Meghann Myers is Macworld's editorial assistant.]