Editor's Note: The following article is excerpted from PC Advisor.
At the CeBIT trade show in Hannover, Germany, TomTom announced a number of new services and features for its TomTom satellite navigation app for iPhone. But despite the enhancements, TomTom still believes that a standalone device is better than the $70 app.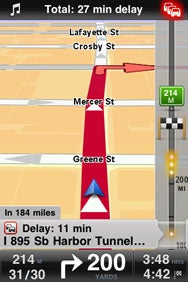 The updates to the TomTom app for iPhone version 1.3 include TomTom HD Traffic for real-time traffic speed and incident reports, and Local Search powered by Google. TomTom has sold around 180,000 downloads of the TomTom for iPhone app.
At an exclusive demonstration for PC Advisor, TomTom Product Marketing Manager Mark Huijnen showed us live traffic updates from the streets of Hannover. The HD traffic data is collated from the approximately 40 million strong TomTom device community, as well as Vodafone handsets.
The demonstration was impressive, with multiple options to avoid snarl-ups, and real-time updates of journey times. According to TomTom vice president Roy van Keulen, the traffic data updates constantly, and updates are fed to devices every three minutes.
Equally impressive was TomTom's demonstration of the integration with Google Local Search. Using the TomTom app we were able to quickly find up-to-date info on an Irish bar that—it just so happens—is PC Advisor's favourite bar in the Hannover area.
There are other, more ephemeral improvements to the app, according to TomTom, including more sympathetic music fade.
Despite all of this, and the hefty price of $70 for the US & Canada version of the app, van Keulen thinks that the iPhone app remains inferior to TomTom's standalone hardware devices. "Hardware is still a better overall experience."
This is, says van Keulen, because the iPhone is "perhaps not quite there."
Although van Keulen wouldn't comment on TomTom's future roadmap, he said that despite the company's enduring belief in standalone satnav devices, it would get into any market it felt its products could be the best in, including Google Android.
He said that TomTom enters a market only when it can "do it right, with the highest quality."
According to van Keulen, TomTom concentrates on providing the best user experience, and the best content, and then cascades the information to devices and markets that can do it justice.
Commenting on the market for GPS devices, van Keulen said that he saw room for growth, and said that TomTom was "happy" with its recent sales figures.
The 1.3 update to the TomTom app, which has been submitted to Apple for review, will offer these and other soon-to-be-announced enhancements to ensure an optimal, and even more intuitive, navigation experience.