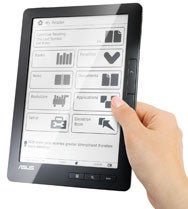 Asus may be coming late to the e-reader party, but it's definitely thinking big. On display at the giant CeBIT tech trade show in Hannover, Germany this week is the Asus DR-900, a device that an Asus rep says will compete with Amazon's Kindle DX ( ), "but with more features."
The DR-900 has a 9-inch monochrome touch screen display (the Kindle DX is slightly larger, at 9.7 inches). The Asus display, while using electrophoretic technology that appears in most current e-book readers, is made by SiPix, a competitor to E Ink, which up to now has dominated the e-paper market. Other DR-900 display specs: 1024-by-768 resolution, 150 pixels per inch, 16 scales of grey.
The DR-900 is about a third of an inch thick (roughly the same as the DX) but, at 13 ounces is considerably lighter in weight. It also has a thinner bezel than the Kindle DX. It can get content wirelessly, but base models use 802.11g Wi-Fi, which tends to consume more power than the 3G cellular technology in Kindles. Asus says the DR-900 will run up to four days with Wi-Fi enabled, or two weeks with Wi-Fi turned off. (The company indicates that 3G cellular connectivity will be available as an extra-cost option.) The device has 4GB of built-in storage.
The DR-900 has a built in Web browser and can access RSS feeds, but so far it appears to only support DRM-free formats, including unprotected e-PubPDF, TXT, Audible, MP3, HTML, JPEG, GIF, PNG, and BMP. This could be its biggest weakness, as without DRM support you're unlikely to see commercial content on the DR-900.
Asus will also have a six-inch reader, a booth official said. Both are due out this spring, but pricing wasn't immediately available. Asus is supposedly working on a color e-book, but that won't be available until next year at the earliest.