With all the snow in the east and rain in the west, maybe what everyone needs is a nice software deal. You've now got two from which to choose. You don't even have to leave your couch. For a limited time, you can find a couple of appealing and affordable bundles from MacHeist and the The Mac Sale.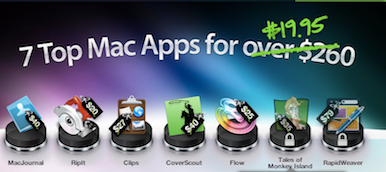 MacHeist's NanoBundle 2 costs $20 and includes seven apps that together retail for over $260. Buy the package and you can be the proud user of MacJournal (a blogging and journaling tool), RipIt (a DVD ripper), Clips (a clipboard manager), CoverScout (an album-art locator), Flow (an FTP app), Tales of Monkey Island (a game), and RapidWeaver (a Website creator). Be aware that Tales of Monkey Island will only be unlocked and available after 50,000 bundles are sold, and RapidWeaver will be unlocked sometime after that.
To ease your conscience about getting so much software for so little, MacHeist will donate 25 percent of your purchase price to a charity of your choice; MacHeist lists a number of high-profile options including the Humane Society, AIDS Research Alliance, and the Clinton Bush Haiti Fund. MacHeist's deal is available only until March 10.
The Mac Sale bundle costs $50 and includes 10 apps worth $500. Some of these apps are less well known than MacHeist's, but might prove tempting. The bundle includes PathFinder (a file manager), Shovebox (an information organizer), Supercard (a software developer tool), StoryMill (a writing app), MiniOne Racing (a game, of course), InkBook (a note-taking app), VideoConverter Pro (a movie converter for the iPod and iPhone), Slideshow (a presentation tool), MacGourmet Deluxe (a recipe organizer), and Finance 6 (a budget and account manager). The Mac Sale bundle is available until March 15.