The worst thing for your safety and that of others while you're driving is to interact with your phone, particularly attempting to engage with texting. However, sometimes you want to let people know that you're unavailable while driving. Apple offers an auto-reply to help.
First, you need to make sure that the While Driving mode of Focus turns on automatically while you're driving. Go to Settings > Focus > Driving Focus > While Driving to set options:
Activate: The Automatically option should be set by default. However, you might prefer to use When Connected to Car Bluetooth if you're never driving without connecting—that is, other times, you're on transit or a passenger. You can also set Manually to enable from Control Center—before driving, not while!
Activate With CarPlay: If you're one of the many people with an automobile that has CarPlay installed, enable this switch so that While Driving is synced with your use of CarPlay.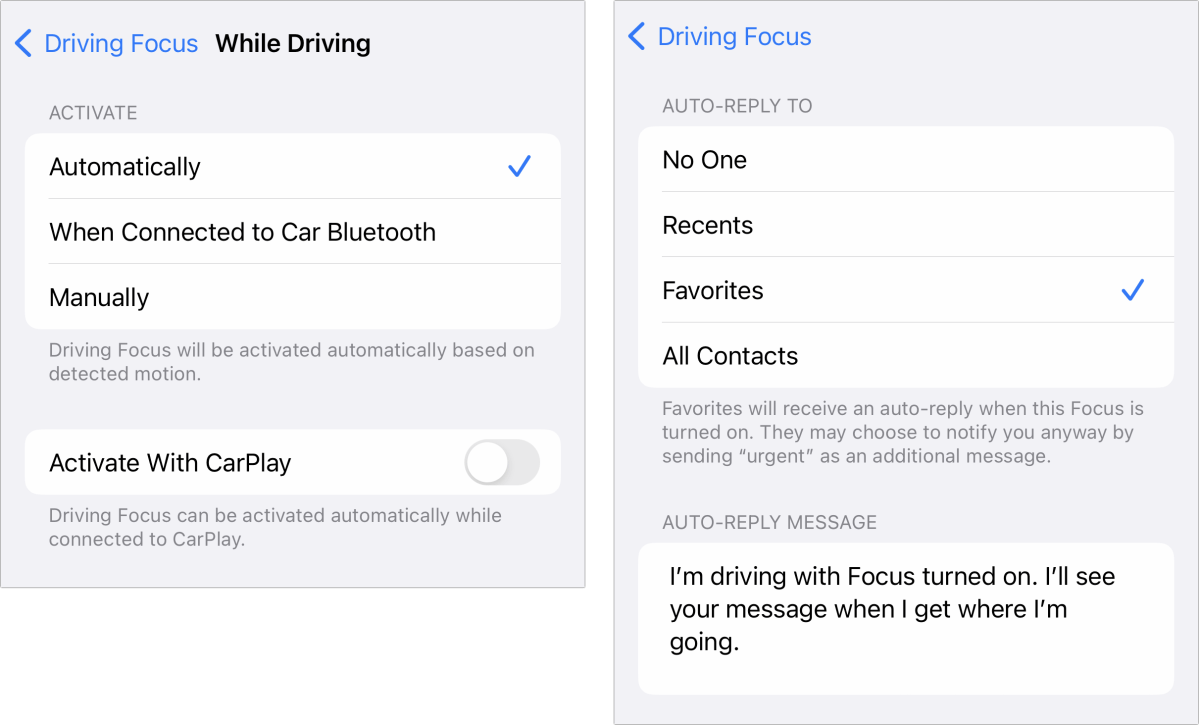 Foundry
Having now ensured While Driving will activate…while you're driving, you can now set up responses. In Settings > Focus > Driving Focus > Auto-Reply, you can compose a message; there's one there by default: "I'm driving with Focus turned on. I'll see your message when I get where I'm going." You can choose whether it's sent to No One (more like temporarily turning off the feature), Recents, Favorites, or All Contacts.
In an especially dire situation, someone responding can send an additional message reading just "urgent" as a reply to override your Focus state. I would hope no one would do that without good reason.
Ask Mac 911
We've compiled a list of the questions we get asked most frequently, along with answers and links to columns: read our super FAQ to see if your question is covered. If not, we're always looking for new problems to solve! Email yours to mac911@macworld.com, including screen captures as appropriate and whether you want your full name used. Not every question will be answered, we don't reply to email, and we cannot provide direct troubleshooting advice.