It's become standard operating procedure for reviews of this sort—I wrote this on an iPad using a Bluetooth keyboard and Pages, Apple's "advanced word processing application." Pages is both a complete pleasure and an utter frustration to work with. It's a truly amazing word processor that makes the possibility of using the iPad as a tool for day-to-day business a reality, but at the same time, Pages has both limited or missing basic tools and features that are an absolute necessity for any really useful word processor.
Work with Pages begins by using the app's My Documents browser. You either create a new document based on one of Apple's 16 templates, or open an existing document that you've imported or created yourself.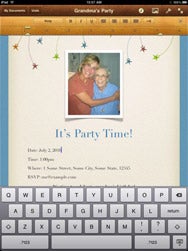 Pages offers a variety of beautifully designed templates that are as basic as a blank white page, or include complex tables, images, shapes, and charts. Unlike Pages for Mac ( ), it's not possible to add your own templates to the existing collection. If there's a document that you want to use as a template, you have to import it into Pages and then use My Documents' Duplicate button to create a new blank document based upon your original.
Fonts and formatting
Any document you're working on has access to a wide variety of paragraph styles that differ based upon the template you're using. You can also use any of the 40 font families available on the iPad, but changing fonts is a hassle. Pages has no font menu on the toolbar, so to change the font you have to tap the Info menu, scroll to the bottom of the available paragraph styles, tap the Text Options menu item and then select your new font. Definitely not the kind of ease of use I'd like to have in a word processor. On the upside, if you're using an external keyboard, Pages does respond to many standard keyboard short cuts, such as Command-X for cut, Command-C, for copy, and Command-V for paste.
Pages also offers some pretty slick features for working with inline text. Select a word and you'll see the familiar cut, copy, and paste options, but there's also a More button that lets you copy a selection's style, replace the selected word with Pages' suggested words, or view the definition of the selected word (sorry, no thesaurus).
Documents in Pages have up to 200 levels of persistent undo. Even after you close a document to work on another, when you reopen your document you can still undo the changes you've made. Pages also helps you avoid document disasters by saving changes as you work.
Pages offers a clever way of helping you navigate your way through multi-page documents. Tap and hold your finger on the right-hand side of the screen and a small loupe appears, displaying a thumbnail of the current page. Drag your finger up or down with the loupe displayed and you can navigate to any page in your document.
Pages also lets you format a document's background, change margins, add footer or header text, and add watermarks or other background images. You can easily change paragraph alignment by using Pages' ruler, and it's easy to create, move, and change tab stops by tapping on the ruler, tapping and dragging an existing tab, or double tapping a tab to change how the stop behaves.
When Apple refers to Pages as an advanced word processor, they're not referring to how Pages handles text as much as how well the app handles the objects your can add to your documents. Pages makes simple work of inserting and manipulating images, tables, charts, text boxes, and other objects. Images come from your iPad's photo library, while tables, charts, and other objects are part of Pages' built-in object library.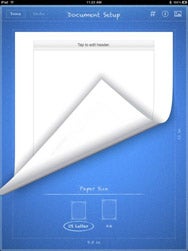 The iPad's multitouch screen is put to good use. Since images and text can't be deleted by selecting them and hitting the Delete key, you instead perform two distinct taps on a chart, text box, or images, and then you have the option to delete that item (a table requires you to tap once and then tap a small circle that appears at the upper-left of the table to reveal the delete option). Using this method, I got inconsistent and sometimes frustrating results depending on how my fingers happened to tap the screen.
The last version of iWork for the Mac added the option to link Numbers tables to charts and tables in Pages. If you import a Pages document that contains a linked Numbers Chart, Pages will retain the chart and its current underlying data, but the link to Numbers gets broken. So once you export the document again you'll have to go back through the process of creating links and charts.
File sharing follies
Unfortunately, Pages has some gaping holes that suck the life out of what would otherwise be a stellar app. The largest of these holes is file sharing, which is handled so poorly that it makes or breaks the possibility of using Pages for iPad as a business tool. While there are several options for getting your documents into and out of Pages, none are easy or recognizes that simple file sharing between your Mac and iPad are essential.
The first, but least obvious way to get documents to or from your iPad is using iTunes. With your iPad connected to your Mac and iTunes open you select your iPad in the iTunes Library, open the Apps tab and scroll to the bottom of the window. There you'll see a list of applications capable of sharing files. Selecting Pages and then dragging files to or from that window and syncing is how you manage your documents. Alternatively, the iPad's Mail app recognizes any document that's readable by Pages and gives you the option to import and open them in Pages.
One extremely important note here: if you receive Word or Pages documents that contain tracked changes or comments, you'll need to avoid Pages for iPad. Imported documents lose all comments and Pages for iPad automatically accepts any tracked changes. For me, this is a problem I can't work around.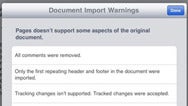 Also, this is a rather important point for anyone considering an iPad as a replacement for a laptop or desktop system—there is no way to print using Pages. Any document you want printed will either need to be exported to iTunes or e-mailed and then printed using another computer. Why these issues aren't addressed in a more reasonable fashion is anybody's guess, but they relegate Pages to being a very cool, uniquely designed, boutique application.
Macworld buying advice
I love Pages for its potential, which at this point in time is more proof-of-concept than shovel-ready. There's no question in my mind that Pages can be a great word processing application, but it's definitely not there yet. As a tool for doing any real work, Pages comes up far too short.
I like Pages. I'll use it when I have to, but the truth of the matter is, the review I started writing using Pages on my iPad, I finished here using Pages on my Mac.
[Jeffery Battersby is an IT Consultant, (very) smalltime actor, and regular contributor to Macworld. He writes about Macs and more at his blog.]
Updated at 8:45 p.m. PT to correct the keyboard shortcuts Pages responds to when you're using an external keyboard.
Note: When you purchase something after clicking links in our articles, we may earn a small commission. Read our affiliate link policy for more details.