Whenever I head over to Hawaii—and it's not frequently enough, if you ask me—I'm barely even off the plane before I hit the beach, strap on a mask, and dive into the ocean for a little snorkeling. I enjoy floating in the water, poking over the reefs, and spotting as many different fish—all with their own unique shapes and colors—as I can.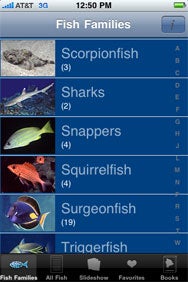 The challenge I face as an amateur who knows only a little bit about snorkeling and even less about ichthyology is how to identify the creatures I stumble across. "Multi-colored slender dudes" or "black-and-white-striped thingamabobs" may be all well and good as an internal reference point, but it's not likely to be very illustrative when I'm recounting my snorkeling misadventures to others. I've taken to carrying around a laminated card, which displays pictures of some of the more common reef fish you'll find off the shores of Hawaii. And while it's certainly helpful in letting me spot the difference between a parrotfish and a wrasse, the laminated card suffers from a key limitation: There are only so many fish you can fit onto a laminated card, even if you use both sides.
Full credit, then, to Reef Fish Hawaii for expanding my horizons. The $5 reference app from Indigo Publications features pictures and descriptions for 159 fish—about three times the number included on my old, reliable laminated card. If a trip to Hawaii is in your future and snorkeling figures to have a spot on your itinerary, Reef Fish Hawaii is certainly a worthy travel companion, thanks in large part to the quantity of fish it profiles.
Using the app is a straightforward affair. Reef Fish Hawaii organizes its listings into 37 fish families, though you also have the option of scrolling through an alphabetical list of all 159 entries; in either case, an A-to-Z navigation bar runs vertically on the right-hand side of the screen, making it easy to jump ahead. (The free Reef Fish Hawaii Lite limits you to 11 fish organized into six families; it's really intended as a sampler before you commit to buying the full version of Reef Fish Hawaii, and not a stand-in for the paid app.)
Each entry contains a photo of the fish, along with a brief description about its appearance, size, and habitat. The app also lists the scientific name of each fish along with (in many cases) its Hawaiian name. In a particularly handy touch, tapping the photo of the fish produces a full-screen view—great for easier identification of fish in the wild.
The app also offers a slideshow feature, which produces randomly selected photos of reef fish. Unfortunately, the slideshow doesn't include any fish names, making it less than useful. It'd be nice if, when scrolling through assorted pictures, I saw a fish that looked familiar and I could tap the screen to call up more information; instead, tapping the screen in slideshow mode merely pauses the slideshow. (Even worse, you don't pause on the picture on the fish in question; rather, Reef Fish Hawaii takes you to a generic "Tap to resume" screen.)
Reef Fish Hawaii has some other limitations, one of which is not really the app's fault. I realize that there are more than a few waterproof cases that are designed specifically for the iPhone and iPod touch. And while I'm sure they're fine options for more daring users than me, I'm still a little reluctant to expose my not-inexpensive piece of gadgetry to the whims of the briny deep. And that means that for all of Reef Fish Hawaii's extensive listings, they're inaccessible to me until I'm safely back on shore. That requires me to remember the exact appearance of the fish I saw while snorkeling in order to look up their names via the app. And as anyone who knows me can attest, relying on my memory can be a dicey proposition. Limited though it may be, my laminated card still enjoys that advantage over Reef Fish Hawaii.
There are other limitations, though, that are in the app's control. Organizing listings by family and name is a good enough approach, but a somewhat daunting one for those of us who don't know how the 19 different varieties of surgeonfish differ from the half-dozen or so triggerfish. Perhaps adding other browsable categories—Size? Shape? Color?—might give novice snorkelers another entree into the app.
Reef Fish Hawaii would also do well to provide a better method of logging the fish you've spotted on a particular outing. A Favorites screen provides a round-about way of doing this—tap the Favorites button on a specific entry, and that fish will be saved as a favorite. But Favorites only shows all the fish you've slapped with that label—it'd be much better if you could group which fish you saw on a particular location (and perhaps even log the beach you were at when you saw them).
In the greater scheme of things, though, these are relatively minor complaints. While Reef Fish Hawaii could stand to add some new features and tidy up its organization a bit, it still does an admirable job of putting a lot of information at your fingertips. I know that the app will be on my iPhone the next time I hit the beach, even if my iPhone remains back on the shoreline.
[Macworld.com executive editor Philip Michaels does most of his snorkeling at Ke'e Beach on Kauai.]