When it comes to mobile voice recognition, the big name in the business right now is Nuance Communications and its line of Dragon NaturallySpeaking products. The only real problem with Nuance's lineup lies in multitasking— Dragon Dictation can only take down a note, e-mail or text message; I have to open a different app like Dragon Search if I want to look up something.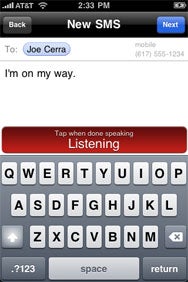 Vlingo is looking to provide a viable alternative with the latest version of its self-titled app for the iPhone. The voice-recognition app arrived on the App Store in December 2008. Back before iPhone 3.0 and Voice Control, Vlingo not only supported voice-activated dialing, but also Google and Yahoo search functionality, maps, and Facebook and Twitter updates.
On Thursday, Vlingo plans to unveil a new version of the app, which not only polishes both the interface and older features, but introduces e-mail and SMS paste into Vlingo's repertoire. Voice commands are simple; you simply say the name of the service you wish to use, followed by your message. In addition, there's no navigating through submenus to find the service you want—Vlingo allows you to start speaking commands for any of its services when you first open the program.
Vlingo supports both North American and UK English; other languages are not yet available. The app doesn't offer Bluetooth headset support as of yet, but hopefully the developers will look into adding it down the line.
Vlingo is a free download from the App Store. It includes voice-powered dialing, searches on Google, Yahoo, and Bing, maps, and social networking updates to Twitter and Facebook. E-mail and SMS Paste functionality cost an additional $10; if you only want one of those add-on features, you can buy it separately for $7. Vlingo runs on the iPhone and requires OS 3.1 or later.