Capcom's Resident Evil series has always been about close-quartered survival combat, claustrophobic settings, and dark, foreboding atmospheres. The zombie enemies aren't merely faceless mobs either; they're former neighbors, farmers…even fellow police officers. Surviving takes on a more personal, terrifying feel in these games, which is why they've been so enduring. Thankfully, Resident Evil 4 Mobile Edition embodies the spirit of the original series in its debut for the iPhone and iPod Touch. The dark survival horror game provides hours of intense gameplay and a compelling story. While the controls handicap an otherwise smooth transition to the new platform, fans of the series and those seeking a brutally difficult challenge should still give this title a look.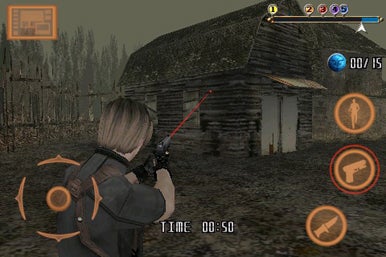 You play as Leon S. Kennedy, former Raccoon City police officer now assigned to rescue the President's daughter. You have to fight parasitic zombies in a sleepy Spanish-speaking European town in order to complete your mission and find out what's going on.
There are two modes of gameplay—Story Mode and Mercenary Mode. In Story Mode you play through the storyline, while in Mercenary Mode you complete timed missions with set goals in order to get money (the money can then be used to buy items in Story Mode—a big help). There are 12 Story Mode levels and 24 Mercenary Mode levels, offering hours of creepy survival horror gameplay.
While Resident Evil 4 for the iPhone captures the atmosphere of the console game well, the controls are not as well developed—you move around using a virtual d-pad and you shoot and stab zombies using action buttons. Unfortunately, like in the original Resident Evil games, you can't walk and shoot—so the action is a bit stilted and you constantly have to face the choice of running or fighting.
The d-pad itself is actually one of the better virtual d-pads I've used—it's responsive and the further you move your finger from the center of the d-pad, the faster your character moves. Unfortunately, the interface is still clumsy thanks to a mechanic that requires you to hit the action buttons to enter and exit shooting/stabbing/walking modes. Even after a few hours, the controls still don't seem natural.
When you enter shooting mode, you have to aim using the virtual d-pad. Suddenly the aforementioned responsiveness is not such a good thing—I often found myself missing critical hits because of the d-pad's sensitivity. To reload, you can either hit the shooting action button or shake your iPhone, though make sure you reload in a timely fashion. The zombies don't wait for you to reload.
Resident Evil 4 for Beginners is essentially a "lite" version of Resident Evil 4 Mobile Edition. The Beginners edition costs just $0.99 (instead of $6.99), includes a tutorial, the first two levels of the game, three levels of Mercenary Mode, and a special Coin Shoot Mode. Coin Shoot Mode is a timed game in which you try to shoot as many blue coins as possible for a high score—it's great target practice for those struggling with the d-pad aiming. Resident Evil 4 for Beginners also features five levels of difficulty ranging from "Beginner" to "Extreme," as well as an auto-aim function that unfortunately is just for show—I found it almost completely useless.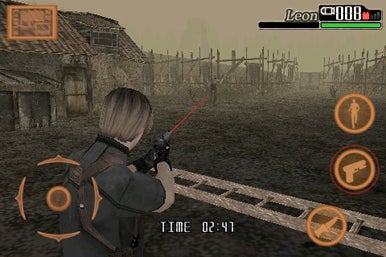 Resident Evil 4 has a lot of polish to it and speaks to the high budget of the project. The graphics are very good, and the textures and atmosphere are spot-on for a Resident Evil game. Still, there's some obvious room for improvement. The cut-scenes are reduced to words and pictures instead of full movies and the controls are frustrating and sloppy.
If you're not positive you'll love the game—you should definitely check out Resident Evil 4 for Beginners, as it's significantly cheaper and you can always upgrade later. Plus, the Coin Shoot Mode is a great way to see if you really can deal with an entire storyline full of annoying d-pad precision aiming.
[Sarah Jacobsson is a frequent contributor to Macworld.]