At a glance
Expert's Rating
Pros
9 ports
Built-in speedy SSD enclosure
Zero-footprint docking station
Cons
USB ports can't charge devices
No card reader
Our Verdict
If you use your MacBook's own keyboard and desire up to two quality external displays and need to increase your base storage with fast SSD drives, the Satechi Dual Dock Stand is a neat, zero-footprint docking station that matches your MacBook for style and adds nine useful ports.
Price When Reviewed
$149.95
Best Prices Today: Satechi Dual Dock Stand
Laptop docking stations are a great tool for adding multiple USB, video, and networking ports to your MacBook, and this dock from Satechi goes a step further by adding an SSD enclosure so you can add affordable fast storage without having to attach a separate hard drive.
As its name suggests, the Satechi Dual Dock Stand also identifies as a laptop stand. It certainly raises the MacBook that rests on it to a more agreeable angle for typing but it isn't a stand that will raise your MacBook to a more ergonomic height. However, if you are using the MacBook's keyboard rather than an external one, it's more comfortable than leaving the laptop flat on the desk.
Satechi
Specs and features
The Satechi Dual Dock Stand features nine ports and an underside SSD enclosure.
Dual-USB-C upstream connector to laptop (75W PD 3.0)
Passthrough power USB-C port
2x USB-C (one at 10Gbps, one at 5Gbps)
2x USB-A (one at 10Gbps, one at 5Gbps)
1x DisplayPort 1.4
2x HDMI 2.1 ports
Gigabit Ethernet
The bonus SSD enclosure is the real star of the show. Placed on the underside of the dock, this is easily accessed and supports both NVMe and SATA SSDs. This feature alone places it in our list of the best USB-C docks for MacBook.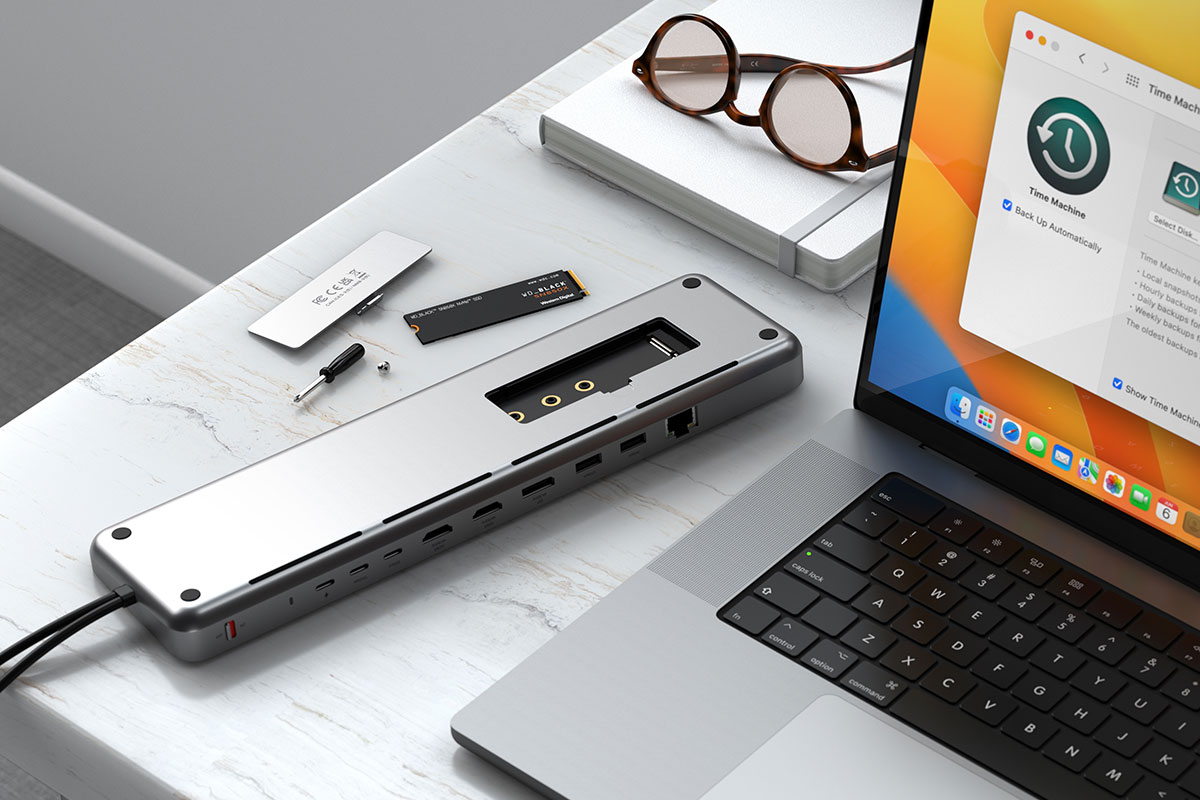 Satechi
SSDs are Solid State Drives that are smaller and faster, more durable, and use less energy than old-school spinning hard disk drives (HDD). HDD's advantages are that you can get much larger capacities, and they are a lot cheaper. But SSDs are the way to go for fast data transfers, backups data, recovery, and external storage unless you don't mind waiting for disks to whirr to life every time you try to access them.
You need to buy the SSD separately. Amazon is selling NVME SSDs for around $50 (1TB), $80 (2TB) or $300 (4TB), but note that storage prices can be quite volatile. Compare that to adding SSD storage to a new MacBook at point of purchase, where Apple will charge you an extra $400 for a 2TB drive and $1,000 for 4TB!
While SATA SSDs have up to four times the bandwidth of HDDs, they are limited to 6Gbps. NVMe SSDs support up to 10Gbps transfer speed. Unless you have a spare SATA SSD hanging around, we recommend you buy the faster NVME variety. (Note that some older devices may not be compatible with NVMe, but any Mac after 2018 should be fine.)
The Satechi Dual Dock Stand connects to your laptop via USB-C—in fact, a dual 10Gbps USB-C connector for maximum bandwidth and passthrough power. MacBooks use faster Type-C–compatible Thunderbolt connectors (40Gbps) but sticking with 10Gbps USB-C will save you money.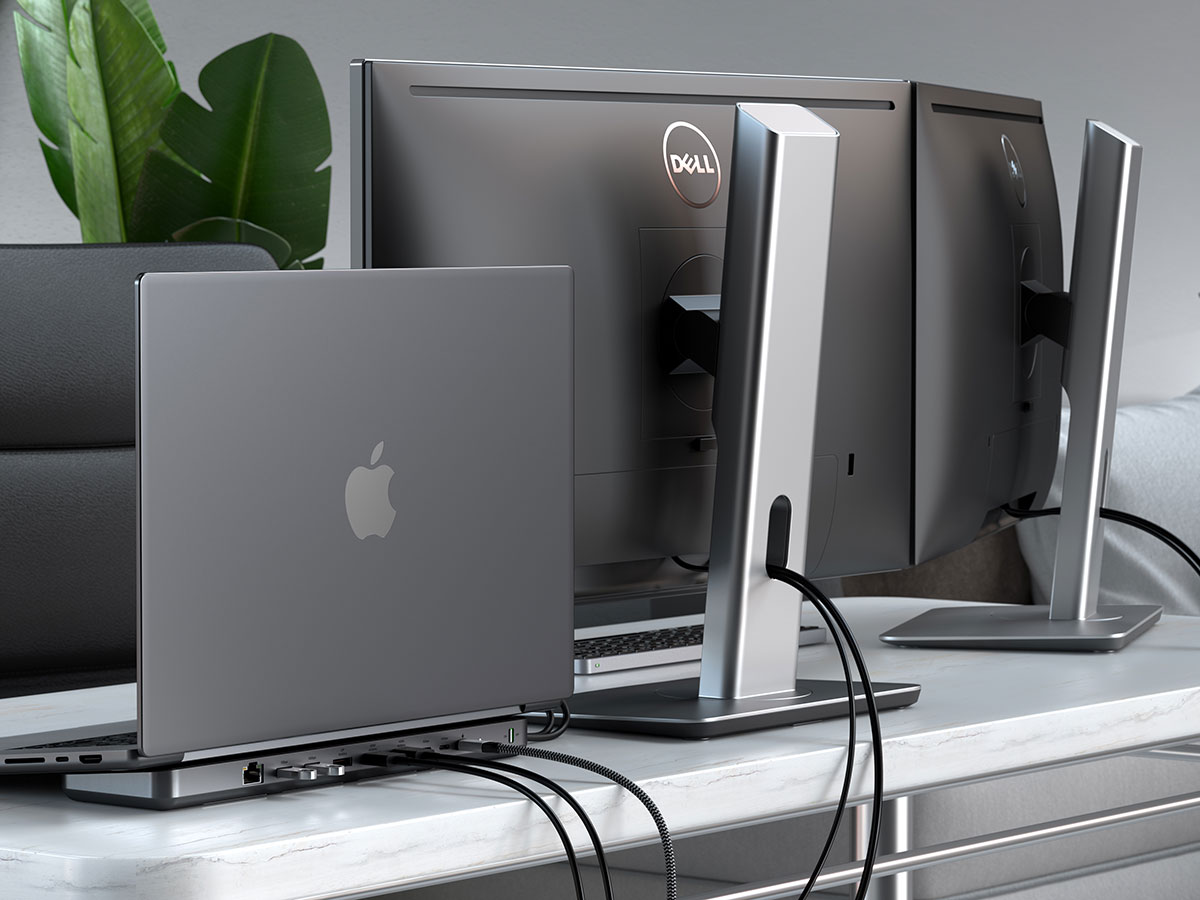 Satechi
Dual display support
With one DisplayPort 1.4 and two HDMI 2.0 ports, you can connect up to two 4K displays in Extended mode at a decent 60Hz refresh rate. Note that Macs with plain (non-Pro/Max) M1 or M2 chips are limited—by Apple—to just one external monitor in extended mode. However, there are solutions if you want to connect more than one monitor to an M1 or M2 Mac.
The Echo 20 has just one video port. Although that port is the superior HDMI 2.1, you have to add a second external screen via one of the Thunderbolt ports, which will require an adapter.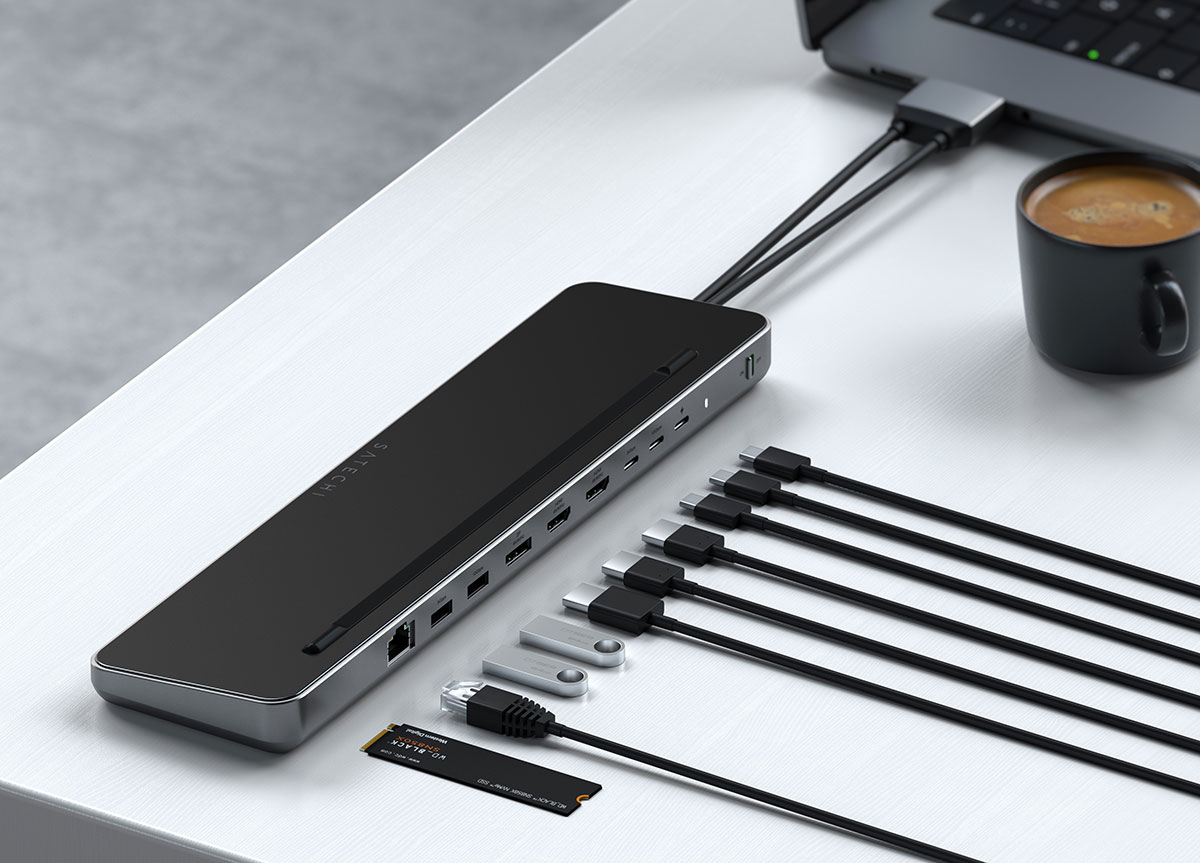 Satechi
USB power plus and minus
The Satechi Dual Dock Stand features five USB ports.
One USB-C port is for passthrough PD power at up to 75W to the laptop, which is enough for all but the 16-inch MacBook Pro at full pelt. Even that model will charge fine—just slower than smaller MacBooks. Note that you will need to connect your own USB-C charger to the dock: check out our recommended MacBook chargers.
Then there are two USB-C and two USB-A ports—one of each at 10Gbps, and one of each at 5Gbps.
None of these non-PD USB ports, however, can charge a connected device. Most docks and hubs allow a little—maybe 7.5W—to keep connected devices powered up, or maybe just to charge your iPhone while working on the MacBook. This isn't a problem for small flash drives, keyboards, or mice but does mean connected storage drives might require secondary power.
Also lacking is an SD or MicroSD card reader for more portable storage, but the built-in SSD more than makes up for this omission.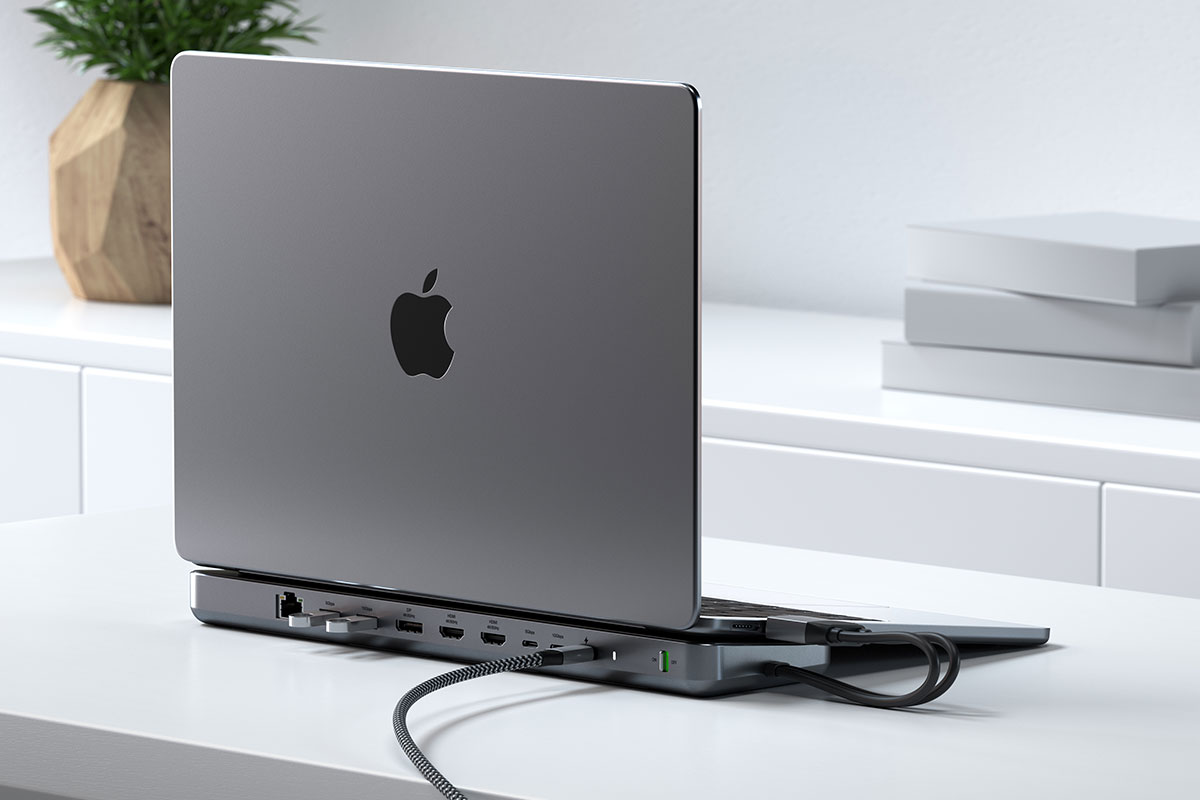 Satechi
Design
This Space Gray MacBook dock calls itself a stand, and it's true that it sits underneath the laptop, raising it slightly at an angle. As the MacBook sits on top, this dock takes up no space on your desk. Vents should keep the dock cool while in use.
The angle helps with comfortable typing, but it doesn't push the laptop screen to a more ergonomic height suitable for video calls, for instance, if you want to use the MacBook's built-in webcam. For that you will require a decent laptop stand—helpfully, we've tested the best MacBook stands already.
As the attached upstream cable is quite short, you can't tidily keep it connected to the dock and move it onto a stand if you want that extra height. A longer or detachable cable connection might have served better.
But if you are happy with the laptop at a comfortable sitting level—for example, if you use the MacBook open and using its keyboard—and maybe have a webcam in or on your connected external display, this niggle shouldn't bother you, and you'll appreciate the typing angle.
While it is aimed at Mac users, the Satechi Dual Dock Stand will work with Windows laptops that feature a dual-USB-C port setup, such as the Microsoft Surface Pro 9, Surface Laptop Studio, Dell XPS 15, and Lenovo Yoga 7.
Price
The MSRP of the Satechi Dual Dock Stand is $150, which is a very reasonable price for a dual 4K 60Hz USB-C docking station. The addition of the SSD enclosure makes the price seem even better value, although remember that you need to purchase the actual SSD separately, plus have a powerful USB-C charger to hand.
The closest dock that we've tested is the Sonnet Echo 20 Thunderbolt 4 SuperDock, which includes an SSD enclosure and uses the faster connection standard, plus boasts twice as many ports, but is twice the price.
Verdict
If you use your MacBook's own keyboard and desire up to two quality external displays, plus need to increase your base storage with fast SSD drives, the Satechi Dual Dock Stand is a neat, zero-footprint docking station that matches your MacBook for style and adds nine useful ports.
Best Prices Today: Satechi Dual Dock Stand