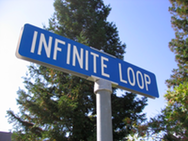 While Apple may not have had a chance to compete in the recently concluded Winter Olympics—and that's a shame, too, as we understand the legal department boasts quite a formidable four-man bobsled team—the company did manage to take home a gold medal in Fortune's annual list of "most admired" companies. That marks a three-peat for Cupertino, as Apple had previously claimed the top spot in both 2008 and 2009.
There were still some firsts for Apple in this year's list. For one thing, Fortune says the company won by the highest margin ever and, in a coup, apparently an unprecedented (if slim) majority of the surveyed corporate leaders—51 percent—actually said they admired the company. The money quote, though, comes from BMW CEO Norbert Reithofer, who said, "The whole world held its breath before the iPad was announced. That's brand management at its very best."
Not only did Apple top the list of the 50 most admired companies, but it also walked away with its category—"computers," which seems a little narrow given Apple's markets these days—and earned top industry ranks in innovation, people management, quality of management, financial soundness, and quality of products/services. Of the other key attributes—use of corporate assets, social responsibility, long-term investment, and global competitiveness—it took second place, losing out to its highest-ranked industry rival, Hewlett-Packard, in each of those categories.
But wait, what's this? Who's nipping at Apple's coattails? The second most admired company overall—and the first in its industry of Internet Services and Retailing—is none other than Apple frenemy Google, which edged out Warren Buffett's Berkshire Hathaway for the silver medal spot. In particular, Fortune alludes to Google's Android OS and its competition with the iPhone as a major market to watch in the coming months.
Apple needs just two more years in the top spot to rival the all-time record holder GE, but as it and Google increasingly square off, there's the potential that next year's list will see some shake-ups on the medal stand.