There are two kinds of people in this world: Those who understand and enjoy the appeal of Noby Noby Boy for iPhone, and those who are entirely sane. I'm in the latter camp. Developed by Namco—who really should know better—Noby Noby Boy is less of a "game," and more of an art project. That being said, I wouldn't bet on seeing this at the Museum of Modern Art anytime soon.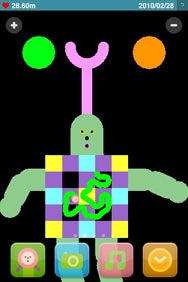 You control the titular Boy, a wormlike creature. Your goal, such as it is, is to stretch his thin little wormy body out like taffy. Stretching him, of course, can be done via multitouch; tap on each end and drag. The Boy can be stretched pretty much infinitely, and there's no skill involved in doing so.
Rather, Noby Noby Boy's "fun" is meant to be in watching the Boy interact with his environs. You can tap buttons to create new scenery for him, which can also move around, bouncing the Boy around. You can snap photos and work them into the different settings for the Boy, too. You can trigger the iPhone's GPS, and stretch the Boy's body not just from his edges, but across the real-world distances that you travel. You can turn him into a clock for no apparent reason.
But why should you do all these things? You wouldn't believe me if I told you.
Okay, fine: The longer the Boy gets, the more hearts he can then feed the Girl, who tabulates all the lengths that Boys have been grown amongst all players of Noby Noby Boy worldwide. For whatever that's worth.
The game also includes an internal web browser, where you save bookmarks based as colored tiles. And an augmented reality mode lets you drag the Boy around whatever you're looking at.
If none of this review makes sense to you, then I've done my job of perfectly capturing what it feels like to play Noby Noby Boy. It's less of a game than an experience, and it's the kind of experience that feels like a trippy art project that's tough to appreciate if you're not tripping, too.
[Lex Friedman is a frequent contributor to Macworld.]